Dementia innovation given a nod at Future of Ageing Awards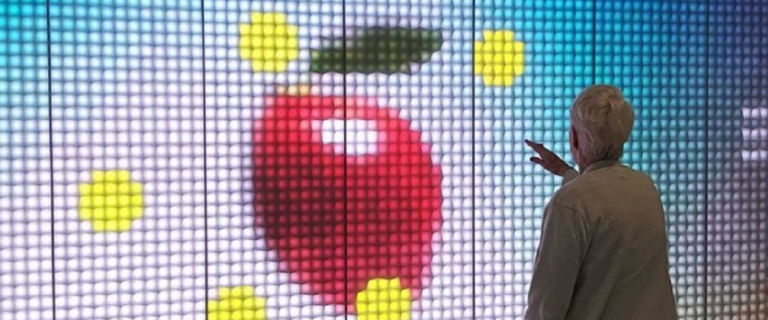 The world first use of digital wallpaper in Bolton Clarke's Galleon Gardens Memory Support Unit on Queensland's Gold Coast has been shortlisted as a finalist in 2021 Future of Ageing Awards – Dementia Care category.
Researchers, care teams and memory support residents took part in a co-design process during 2020 to develop engaging content for the wall.
Programs developed and implemented a a result include:


Dot-to-Dot game: When a resident or staff member touches a coloured dot, a part of an image is revealed. Residents try to guess the image before the entire picture appears.


Word game: A word with letters missing appears on the wallpaper and residents figure out the word.


Musical Keyboard: The entire wallpaper resembles a piano keyboard with the keys randomly changing colour. When
Bolton Clarke Galleon Gardens Lifestyle Coordinator Gwen Bonney said as a result of the co-design process the digital wallpaper was enhancing resident engagement with the physical environment, promoting physical activity, and encouraging social interaction.
"The team uses the activities every day, even if just for a few minutes, and the residents are engaging with the wall by themselves now too," she said.
"It's very inclusive – regardless of a person's cognitive ability, they can still interact and get involved as part of the group."
Winners in the Future of Ageing Awards will be announced on November 1st 2021. You can see the full list of shortlisted entries here https://insideageing.com.au/2021-future-of-ageing-awards-shortlist-winners-announced-november-1/
Tags: Specialist Dementia Support | Memory Support Unit | WEAVE
More from Galleon Gardens