Inverpine residents dig in to fresh produce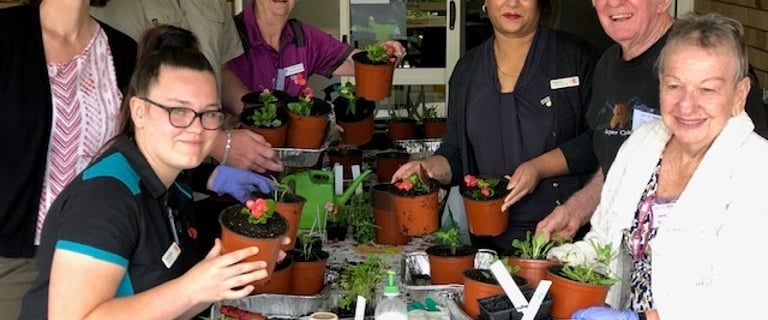 Residents at Bolton Clarke's Inverpine residential aged care community at Murrumba Downs are getting their hands dirty planting gardens with edible produce in a new therapeutic gardening program.
Bolton Clarke Research Institute will measure results from the pilot project, funded through a $45,000 IMPACT Philanthropic grant, to assess how gardening can support improved mobility, physical activity and mental wellbeing for participants.
The work will inform a planned roll-out across the organisation's 25 residential aged care communities.
Bolton Clarke General Manager Hospitality Bill Laird said research showed gardening and other green space activities were especially beneficial for older people affected by memory loss or dementia.
"Gardening is an activity that can be tailored to the physical capacity of residents and has great benefits for wellbeing, as well as providing access to fresh and nutritious food," he said.
"This community gardening project will include weekly gardening group sessions that will support residents to spend more time outdoors as part of our Be Healthy and Active program.
"By planting fragrant and edible produce we will be building on our ongoing work with the Maggie Beer Foundation to appeal to all the senses and create a great dining experience in aged care.
"The garden will also be an area residents, families and employees can enjoy, with seasonal produce all year round."
To support the program, Horticultural Therapist Cath Manuel has trained Inverpine employees in areas including therapeutic horticulture, gardening for people with dementia, therapy gardens, growing fresh food for the kitchen and how to implement a gardening program.
"People of all ages need a connection with nature," she said.
"Gardening and growing fresh food gives people a feeling of joy and has great health benefits."
Activities will include seed sowing, propagating cuttings and growing plants in pots, herb and therapeutic planting, growing vertical gardens, organic gardening and garden craft.
Raised garden beds and pots will provide colourful, aromatic and visually interesting displays with offerings including lavender, rosemary, perennial basil, pineapple sage and dwarf citrus trees.
Companion plants including cosmos, nasturtium and marigold will attract beneficial insects and encourage bees, while bird attracting shrubs will be planted along fences. Employees will also be able to take residents on sensory tours of the gardens.