Undetected hearing loss and dementia diagnosis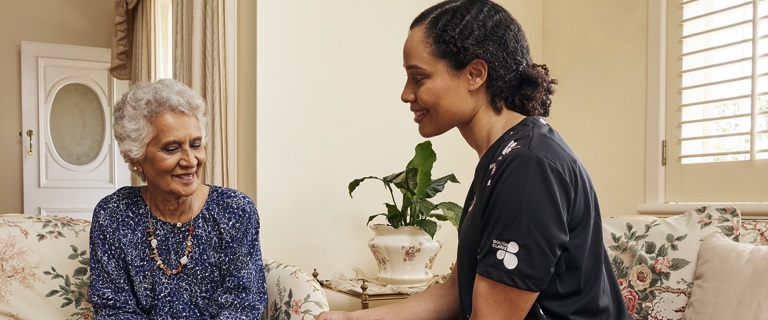 A Bolton Clarke Research Institute project focussed on removing undetected hearing loss as a barrier in assessing cognitive ability is investigating the potential of personal amplification devices in the assessment process.
Bolton Clarke Clinical Nurse Consultant Kylie Walters said hearing difficulties can often mimic dementia or depression, as reduced hearing greatly reduces a client's ability to communicate.
As a result, the accuracy and understanding of key assessments such as the Rowland Universal Dementia Assessment Scale (RUDAS) and Psychogeriatric Assessment Scales (PAS) can be severely hampered, leading to potentially negative outcomes for clients.
The pilot project with Bolton Clarke Research Institute is investigating personal amplification devices, which use digital technology to enhance speech, as a low-cost alternative to hearing aids.
Clinical Nurse Consultant Kylie Walters says the use of the devices in assessments has been a simple and positive experience for both clinicians and clients.
"Clients wear a set of headphones attached to the device, and the level of amplification is able to be tailored to each individual," she said.
"We have trialled with ten clients so far and the results have been overwhelmingly positive. During the assessments, both concentration and understanding of questions is improved, with less repetition or stalling for answers."
Researchers are hoping that after a successful pilot, the devices can become an everyday part of the clinician's toolbox to support and enhance communication and better target care.
"What is most important is the client's experience," Kylie explains.
"Our clients have already seen the benefits. Their faces light up when they are able to hear clearly, and they feel comfortable and relaxed using the device."