Painting helps Bernard colour his world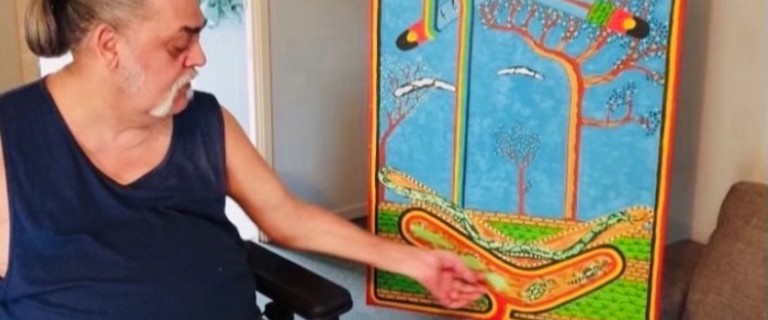 For local indigenous artist Bernard Boyter, NAIDOC Week is an important time to celebrate his aboriginal heritage, educate others and share his passion for painting and culture.
"I just love doing artwork, and the opportunity to educate others on what we know. We don't want to lose our culture – it's very important."
His creative talents were evident from an early age.
"When I was a kid, it just came naturally. I used to draw trees. People used to say 'wow – you're pretty good!'"
Bernard's family are from the Wakka Wakka people of Queensland's North Burnett region but after a diving incident in the early 80s resulting in tetraplegia, he moved from Gladstone to Ipswich in 1989 with his family.
He was especially proud to have his canvas paintings on display this week at Bolton Clarke's Ipswich At Home Support office, from whom he receives support to remain independent and strong.
Bernard does exercises regularly to maintain his strength, particularly for his hands and arms.
"My left hand can grip but I can't always hold something - my right hand is stronger," he says.
"The Bolton Clarke nurses are great. They are also encouraging me to put some of my sketches into a book - I'm just not sure where to start!
"I've got too many to count. Just the ones I've photographed – there's probably 100-200."
Bernard's career as an artist gained strength when he began to use drawing as a rehabilitation tool after his accident.
"It keeps me occupied - I don't get bored! I don't want to sit around watching TV all day."
He's now been painting and drawing for 30 years and has sold his art around Australia, America, and Canada.
He says it was a fellow artist who encouraged him to turn his sketch work into paintings.
"Mum met a girl at bingo and she came round and said that I should put them on canvas. She encouraged me to do the paintings, and at the time I was drawing with pencils.
"So, I learnt how to use and mix all the paint.
"Now I do a mixture of sketches, dot work and other styles. I paint mostly animals and landscapes. I paint whatever pops into my head! I like to put my own spin on things."
Bernard says he's inspired by the work of other artists including Clifford Possum and Albert Namatjira and is glad to see indigenous talents celebrated, and NAIDOC week creating conversation and opportunity to share culture.
"It's very important to me. We've come a long way.
"It's good to see Australia so multicultural, with indigenous languages being taught in schools alongside international languages."
The theme for NAIDOC Week 2021 is Heal Country! Celebrations are being held across Australia between 4-11 July in recognition of the history, culture, and achievements of Aboriginal and Torres Strait Islander peoples.
Tags: NAIDOC | aboriginal art | indigenous artist | Ipswich artist | dot painting
More from our at home support teams...