Paro has seal of approval from residents with dementia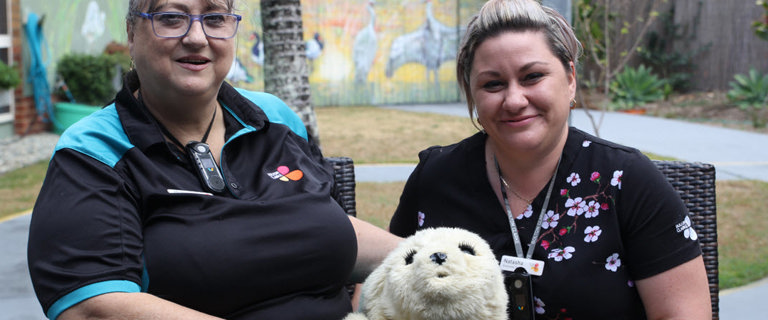 A baby fur seal is not a common sight in Cairns.
But that's where Paro the robotic seal is making a real difference to improve quality of life for residents with dementia at Bolton Clarke's Farnorha residential aged care community.
Paro is a baby seal and is as cute as can be, with shiny black eyes to melt your heart, creamy feather-soft fur and squeaks and cries to signal his joy or frustration.
He is also an advanced therapeutic tool with five kinds of sensors and responds to touch, temperature, noise, light and posture. He can differentiate light and dark, voices, greetings and praise.
Bolton Clarke Farnorha Diversional Therapist Jenny Munro, who spearheaded the fundraising campaign to buy the device, said Paro was a popular companion for residents in the special care unit.
"When we have residents who are anxious and their reactions to that anxiety affect others, Paro can provide an immediate calming influence for the person," Jenny said.
"He also provides a social connection for residents. When Paro is with one resident, it encourages others to engage as well. He helps to create a sense of wellbeing and reduces anxiety."
Paro also records information and provides reports on individual changes to clinical team members via a computer program, allowing therapists to monitor modifications in behaviour and changed responses.
Diversional Therapist Natasha McDonnell said using tools like Paro was an important part of work to reduce pharmaceutical interventions for people who were feeling anxious.
"We've been using him at exercises lately, so Paro sits on the table and as the residents are moving he is putting his head from left to right like he's involved.
"It's like he's real, and people can nurture him and keep him quiet and calm him down."
Bolton Clarke is working across the organisation to provide individualised support for people who are experiencing changed responses resulting from dementia.
September is Dementia Awareness Month and the theme is Small Actions, Big Difference, highlighting the small actions people can take to create a big difference for people with dementia, their families and carers.