Intergenerational storytelling increases social connections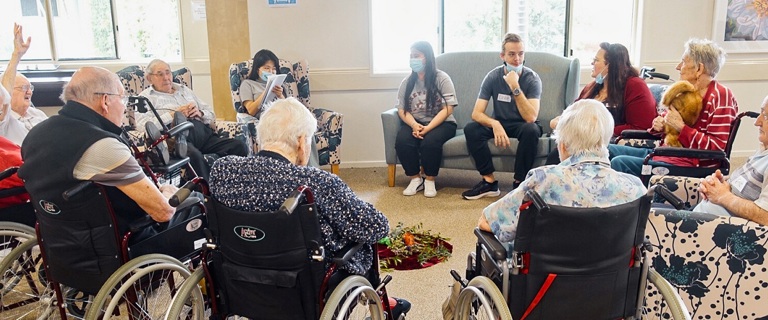 Residents in Bolton Clarke's aged care communities are sharing their stories in new ways through a research-based Life Stories program that is connecting residents with their memories and building bonds with their neighbours, carers and student volunteers.
The program, which began through the work of Bolton Clarke Research Institute Research Fellow Dr Xanthe Golenko in 2020, uses life story reminiscence work to improve wellbeing, reduce loneliness and increase connection for residents living in residential aged care and retirement living communities across the Bolton Clarke organisation.
What began as the creation of Life Story Books through a series of structured one-on-one interviews has now grown to incorporate a story circle program, loosely influenced by indigenous yarning circle practice.
Small groups of residents are invited to a series of weekly story circles, which are facilitated by a staff member and include Bachelor or Masters students, volunteers and residents in a guided or prompted reminiscence.
This year, the key theme of Queensland Seniors Month is social connections and Dr Golenko said for seniors in Bolton Clarke communities, projects like Life Stories are more important than ever before.
She said the project used a biographical storytelling approach to help people tell their stories and capture them, along with photographic memorabilia, in book form.
"Life story work goes beyond the names and dates on a genealogy chart to present the stories behind the facts and bring a person's past to life," she said.
"It helps residents and clients enhance their sense of identity and self-esteem, encourages better communication and closer relationships and helps us better understand people's needs and wishes provide care that suits them."
Program Manager Anna Fowke described the story circles as an intentional gathering for people to have meaningful conversations and become more connected to each other.
"This program is a joy for all who participate. We are relational beings and anything that helps us hear each other's stories can only improve our experience of the world," she said.
"Everyone is included and has the choice to share or simply listen. We have had people who are non-verbal who have positively responded and participated as a result of being part of the circle and listening to the stories.
"This inclusive and gentle environment naturally conjures up memories from their own lives - having these conversations creates a real energy in the group."
The intention is that as the circles progress those residents who would enjoy creating a life story book or a poster naturally identify themselves. As trust builds within the circle they are paired up with a student on placement or a volunteer to work together on creating a beautiful and empowering printed record of their life experiences through books or posters which become part of the community's collection and encourage ongoing conversations and relationships.


Tags: Life Stories Project | Aged Care Innovation | BCRI