'HOW-R-U?' calls keep Alma connected on Neighbour Day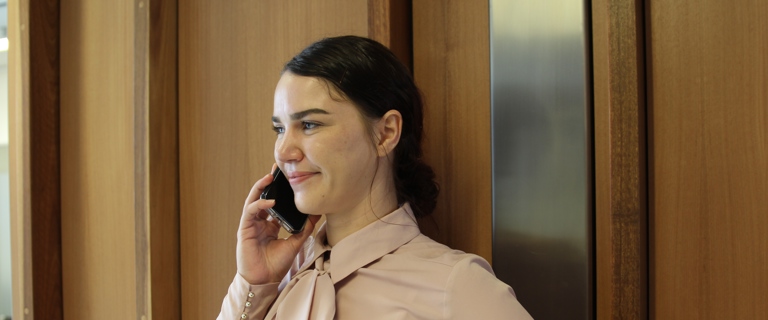 For Alma, living by herself can make it challenging to stay in touch with the world but this Neighbour Day, 28 March, she'll be looking forward to her next phone call.
Through Bolton Clarke's HOW-R-U? program Alma, 86, stays connected with a weekly call from volunteer and Bolton Clarke People and Culture Advisor Isabelle Tait.
The program is an initiative of Bolton Clarke's Research Institute to help older people living in the community stay connected and improve wellbeing.
It matches older people who are experiencing social isolation and loneliness with corporate volunteers from the organisation who share similar interests. So far, 164 older people have been connecting with 46 Bolton Clarke volunteers.
Alma first joined the HOW R U? program last year during the tough lockdowns and says she's never looked back.
Every Friday at 11am, she receives her much-anticipated call.
'We talk about what I have done and what I am going to do. Isabelle is such a lovely girl; we have a laugh and talk about many things' Alma says.
'I always look forward to her call.'
Alma receives home care services from Bolton Clarke's At Home Support team, and the weekly HOW R U? calls provide an added layer of connection beyond the norm.
"Isabelle is very well-travelled you know," says Alma. "We can tell each other things we've done in our lives."
Alma grew up in London during the war and at 20 came over to Australia with her father and mother. She now lives alone in Melbourne since the passing of her husband.
Isabelle too looks forward to chatting with Alma and says the calls have given her a greater understanding of the challenges older people have faced during the pandemic.
''I would really regard Alma as a friend. We have built such a strong connection over the past months.
"I've learned a lot from her too, including tips for my own hobbies such as baking and gardening.
"This program is a good reminder of why I chose to work in aged care and has given me an immense amount of pride and gratitude to work for an organisation that gives back to the community," said Isabelle.
Managing the program is Dr Marissa Dickins from the Bolton Clarke Research Institute who said participants look forward to the calls each week and are embracing the mutual benefits.
"The program is a wonderful opportunity for our organisational volunteers to connect directly with our clients and residents and at the same time help maintain social connection in a time of continued uncertainty," Dr Dickins said.