Easy living bags create easy access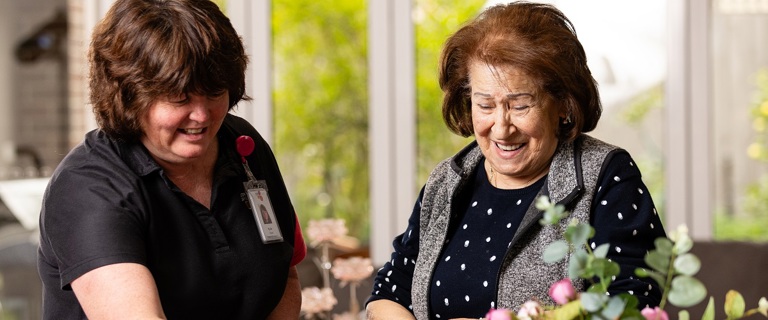 A new initiative is helping At Home Support clients quickly access simple assistive devices to solve everyday problems.
Bolton Clarke's Easy Living Equipment initiative, led by the Group's Occupational Therapists, is helping educate allied health and care workers and clients about simple equipment that can support people to stay independent with activities of daily living.
Occupational Therapists are equipped with "easy living bags" which allow them to demonstrate and train clients in how to use the items safely and access information about simple low-cost options to improve wellbeing.
"Research shows that the ability to 'do things for myself' is important to people and that aids and equipment can play a significant role in supporting independence and should be part of ordinary practice," Kylie Durant, Occupational Therapist Team Leader said.
"Simple problems like being unable to open jars, lift the kettle or turn taps on and off can have a significant impact on quality of life for people ageing at home. Other common issues include being unable to reach feet and toes when showering or putting on shoes and socks, or difficulty using the telephone or carrying laundry.
"With the growth of our occupational therapy workforce, an expanded kit was developed including devices requiring occupational therapy assessment."
Team members carry the kits, meaning they can quickly gauge needs and suggest solutions without the need for long waits and additional visits.
Kylie says the initiative has changed client perspectives of independent living.
"Recently I had a client with chronic back pain from a car accident and rheumatoid arthritis in her hands. I was able to show her products in the Easy Living Bag at the assessment appointment instead of having to make a second appointment to either take her to a store or borrow then to show her," she said.
"She was delighted with a lot of the products and amazed there were things available to make her life easier."
At Home Support
Support that feels right at home
At Home Support offers a range of flexible services covering home nursing, home assistance and other specialised care including dementia support.
Designed to keep you living independently and delivered with the expertise, kindness and respect you deserve, we'll work with you to create a personalised care plan that suits your needs and interests.
Get started