Joy of play bridges the generation gap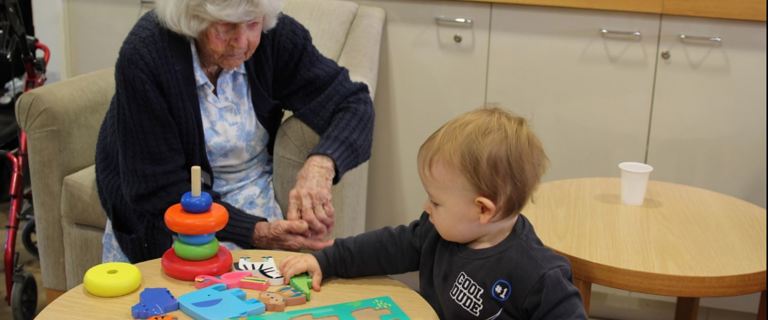 An age gap of more than a century didn't stop Bolton Clarke Fairview, Pinjarra Hills resident Kittie, 103, and 15-month old Harrison Kremmer from having lots of fun putting a puzzle together at the first meeting of the residential aged care community's new intergenerational playgroup.
The weekly meetings, where children aged between 0-5 years join residents for playdate featuring games, stories, sing-a-longs and morning tea, are the product of a new relationship between Bolton Clarke and Queensland Intergenerational Playgroups,
Intergenerational Playgroups collaborate with aged care services to provide engaging and structured play-based learning activities between children and residents, while also providing parents an opportunity to meet other families in their local community.
Playgroup Queensland Manager Community Programs, Penny Allen, said the program has been very successful since it was piloted in 2017.
"Currently we have seven groups meeting across Brisbane and the interest remains strong. Every Thursday the parents and children meet with residents at Fairview for free play, reading, singing, music time and arts and crafts," Penny said.
"We have very positive feedback from all the parents involved, who are excited to come back for more. Children ranged in ages from 3-months to 5-years-old and have a wonderful time playing with residents."
Bolton Clarke Fairview Residential Manager Pam Scherman Carr said the playgroup also created positive opportunities for residents to build relationships and a sense of purpose.
"We had one resident who was having a particularly difficult morning that day and we thought she would return to her room," she said.
"When I went to see how the playgroup was going she was sitting in the circle playing with the children and having a wonderful time.
"It was wonderful to see her passing them toys, asking the parents questions and chatting with the other residents about what was happening. She continued to talk about the activities long after the children left - it really is mutually beneficial relationship we have established.
"Another gentleman sat with a mother and her three-month-old daughter just holding the baby, which was incredibly beautiful to watch. These interactions are genuinely meaningful for our residents."
To find out more information about Playgroup at Fairview you can contact (07) 3855 9600 or visit https://www.playgroupqld.com.au/