The queen in lime green: Thelma celebrates 100 years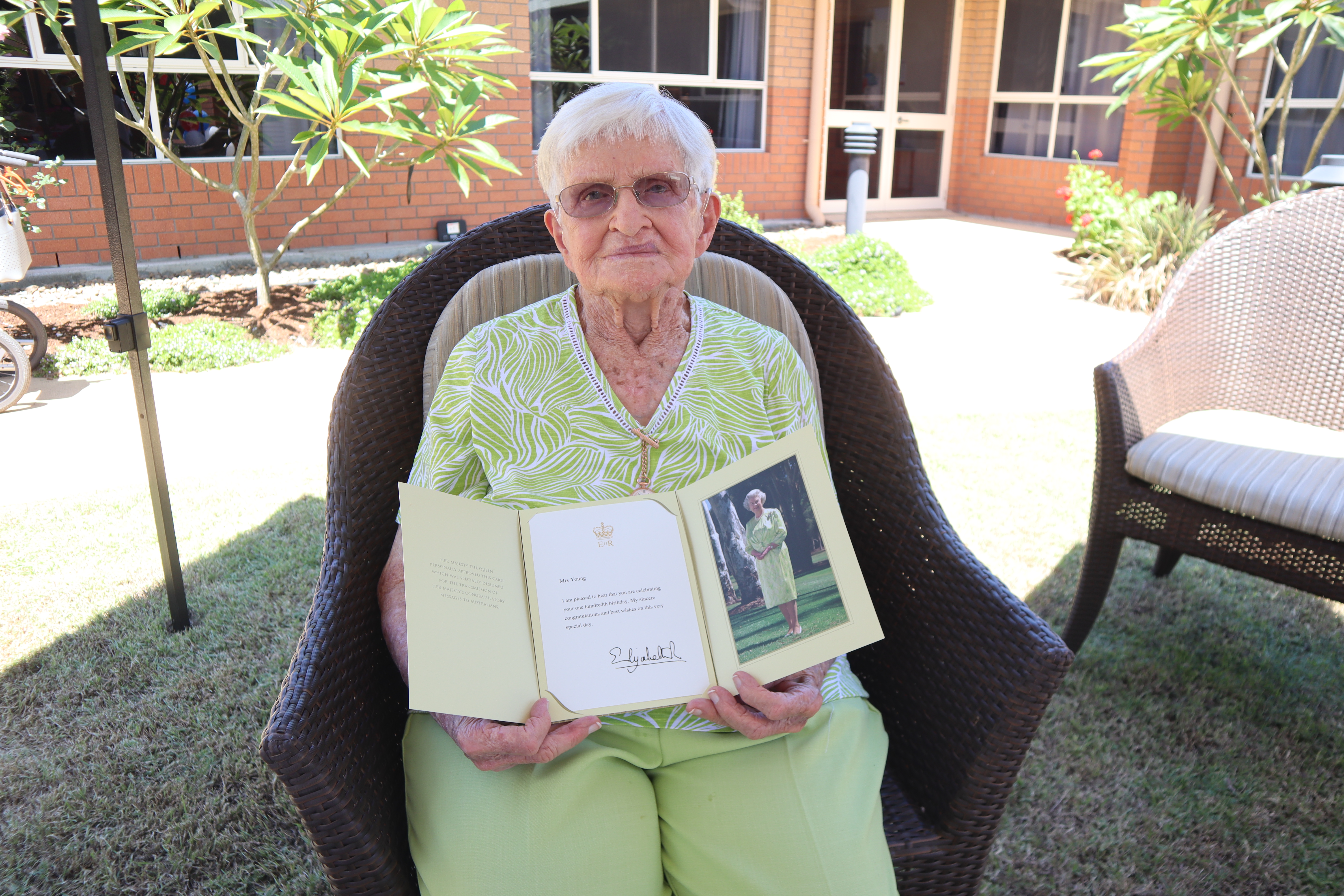 5 November 2020
When seated near to Thelma Young at her 100th birthday party at Bolton Clarke's Milford Grange aged care community, you'd be forgiven for thinking you had been seated next to the Queen herself.
In fact, the new centenarian has earned herself the title of "the Queen of Milford Grange," and it's a role she takes seriously. At her party she wore the same lime green the Queen is wearing in the picture contained in Thelma's much-prized 100th birthday message from the monarch.
Her birthday party at Milford Grange is the second in as many days, partly due to the sheer number of people who wished to celebrate with her and partly to a mix up with the recording of her birthdate through the years.
Her family has always celebrated her birthday on 28 October, but it was discovered in later years that her birth was officially recorded on 29 October 1920.
"That meant I celebrated twice!" says Thelma. "It's been wonderful. Yesterday was outstanding!
"I don't feel old - I only feel about 80. I really can't believe I'm 100 – it's just out of this world!
Thelma grew up on the family farm at Rosewood, one of seven children to Herbert and Mary Dutney. She helped on the farm milking cows and feeding pigs and has seen the progression from candlelight to electricity, from horse and carriage to motorcars.
She fondly recalls eating fresh watermelon from their crops and playing with her siblings in between farm chores and schoolwork.
In her primary years at Rosewood State School she remembers the teachers would strike her knuckles if she wrote with her dominant left hand as opposed to the 'correct' right hand.
"After school I'd work on the farm because we didn't have much money," she says.
Later in life she worked in hospitality at the Rising Sun Hotel and then as a cook at Stubbs Hospital.
It was at a dance that she met Clarrie Young and they married on 17 June 1944. They had two children, and now Thelma has five grandchildren and ten great-grandchildren.
Her daughter Carole Hall said that Thelma was the first person in their family to have reached their centenary.
"Mum has seen and been through so many different world experiences," she said.
"From the Great Depression to the current world-wide pandemic. She has experienced both many sad and happy times and has come through these with great strength. It's such an admirable trait. Our family are so proud of her."
She has lived at Milford Grange for the past 11 years.
"I was one of the first residents to live here and I've been involved in many ceremonies over the 11 years, from cutting cakes to laying wreaths at Anzac and Remembrance Day services," Thelma says.
"Over her time at Milford Grange our family has had the pleasure to meet so many lovely team members who care for mum, always with a smile," says Carole. "She's become so close to many of them and they've become part of our family. We are very thankful."
To commemorate the first in the family to reach 100, Thelma was bestowed a special honour, claiming the last engraving space on a family heirloom – an antique bone-handled bridal knife, given by Thelma and Clarrie to daughter Carole and husband Bob for their wedding in 1968.
Over the years, the knife has served as a record for the family history, being inscribed at each celebration starting with Carole and Bob's wedding, followed by the 21st birthdays and weddings of Thelma's grandchildren, through to two golden wedding anniversaries and now engraved with "Thelma 100 in 2020."
The first knife is now full, and a second will be started, the first engraving on which will also commemorate Thelma's milestone.
Thelma was also presented with a special gold-embossed teacup to commemorate her centenary and welcome her to Bolton Clarke's Centenarian Club.
She joins an illustrious group of more than 166 centenarians across the organisation, including Bolton Clark at home support client Eileen Bailes of Indooroopilly, who shares her birthdate.