100-year-old enjoys fruits of his labour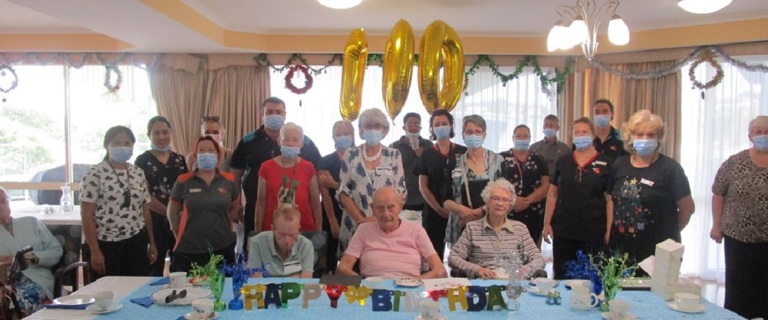 It has been a life well lived for 100-year-old Bolton Clarke Darlington resident Bert Barker. As he celebrates his very special milestone, the Banora Point local is sharing his wisdom with the community.
"The most important lesson I have learnt in my life is that we are all dependent on one another," he says.
"Whatever we do, I believe we have to be conscious of our effects on others – after all we're part of a community and we've got to work together as members of a team."
It's a philosophy that permeates his life, and one that is fitting from a man who spent 33 years serving in the Australian Army. Bert served as part of the Royal Australian Electrical and Mechanical Engineers (RAEMA) and after leaving the service found it difficult to adjust to life in the civilian community.
"I was a little unsettled, having been out of civilian life for 33 years. I was unaccustomed to some of the practices and found that life was a bit cutthroat!"
It was 1977 when Bert and his wife Nona moved up to the Tweed Shire, first living in Terranora for a short time before settling at Banora Point. They made the move to be closer to their daughter and her son James, for whom Bert became a vital support.
"James is disabled, so I spent a fair bit of time helping my daughter with his activities during that period. I was so lucky that I was able to do that for my family,
"I was also very much involved with Legacy and was active in the local club so that allowed me to give back as well."
Enjoying the fruitfulness of the tropical environment, Bert even tried his hand at farming for a short time. He grew and sold avocados, although he says he paid more in freight and fees than he did selling the fruit at the markets.
"I don't think I had seen an avocado until I came up here. They were very novel to me.
"I guess I became a bit of a gentleman farmer. We were on a couple of acres at Terranora and it was a good area for growing avocados, so I thought well why not give it a go!
"It wasn't really an employment in the sense that it was making any money, but I enjoyed the challenge and the activity!"
Maybe it is the avocados that Bert can credit to a long and healthy life, or perhaps it's his attitude. What is certain is that Bert has spent most of the past century giving back to others, and his philosophy of helping people has stood him in good stead.
"As for the secret to a long life, I have always been temperate in everything I did, and I have been fortunate to always have good health.
"Nona has lived in the Darlington residential aged care for five years, and I was living in the retirement village independently for most of that time,
"But it got to the stage where I was living alone and wanted to be closer to her. It just made sense for me to move in. Now, I visit her in her room every day."