Santa's Christmas Alf(ie)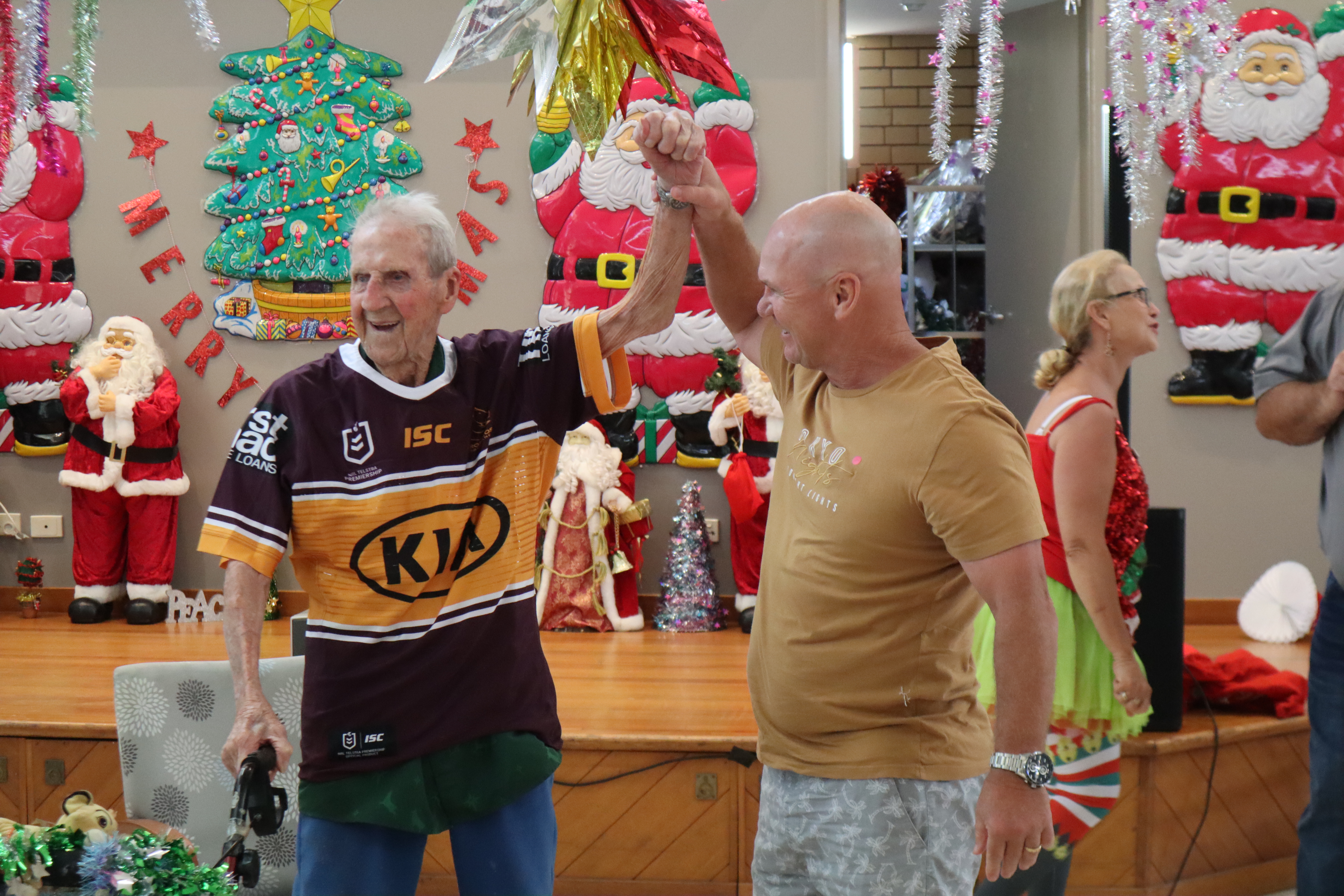 16 December
When Bolton Clarke Centaur Memorial, Caloundra aged care resident Bert Kennelly dressed as "Santa Senior" at his 101st birthday celebrations this month, he didn't know he would be accompanied by his own Christmas Alf(ie).
Rugby league legend Allan "Alfie" Langer has been a regular at Bert's birthday celebrations over recent years since discovering the centenarian is one of his biggest fans.
This week his visit was the climax of a celebration that gave residents, families and employees plenty of reason to celebrate after a challenging year.
Residents were treated to a special 'Sister Act' inspired performance by team members along with ballroom and classical dance performances, a clown show, the Macarena, a visit from Santa and Alfie's visit.
Volunteers also received special recognition for their ongoing contribution to supporting wellbeing for residents.
Bert said celebrating his birthday with the former Broncos and Australian halfback was a highlight for him.
"I love the Broncos!" he said. "It's the best present."
Bert's daughter Roseanne Holliday said Langer remains one of her father's league heroes.
"He loves watching old games on television," she said. "He'll talk about this for weeks."
As part of the Christmas festivities, Bert and fellow 101-year-old Mary Schultz received special centenarian certificates from Bolton Clarke Chief Operating Officer David Swain. Later, the pair dressed up as Santa and Mrs. Claus Senior and danced along to Jingle Bells for the crowd.
Mary, who turned 101 in September, was one of the first to wish Bert a Happy Birthday and was overjoyed with the celebrations on the day.
"It's incredible!" she said. "A lot of fun – there's so much going on, it's a little overwhelming!"
Bolton Clarke Residential Manager Clyde Wade said that the team and volunteers had put in months of preparations to get ready for the event of the year.
"We couldn't do it this big without our volunteers," he said.
"We like to go all-out here at Centaur and this year was no different. We're just pleased that we can get everyone together again for events like this.
"Everyone has gotten into it and contributed – and it's fantastic to see everyone had such a great time."
Bolton Clarke Diversional Therapist Pam Greig said the excitement in the room was palpable – and captured the feelings of everyone present.
"To see the joy on the resident's faces again," she said, "– it warms your heart."