75 Years of Fun, Adventure and Love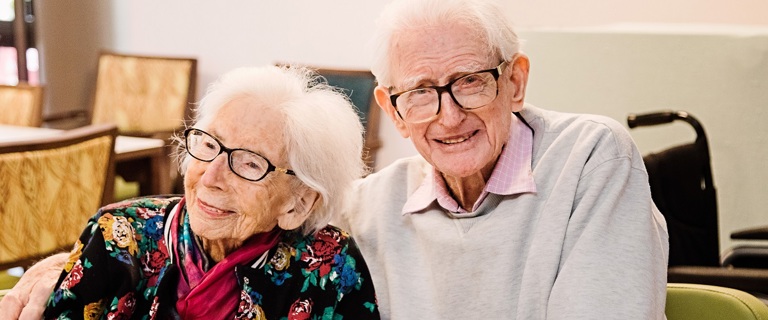 Bolton Clarke Galleon Gardens residential aged care residents Harry and Helen Christian have been soulmates for three-quarters of a century. Recently, they celebrated 75 years of marriage amongst friends and family at their home in Currumbin Waters.
Helen and Harry met and fell in love during the World War II, and today their relationship is as strong as ever. After growing up in the Great Depression and serving in the air force, Helen (now 101) and Harry (now 99) have shared a life of love and adventure.
They met when Helen, an RAF driver stationed in the south of England was sent to a local railway station to collect Harry, a navigator on Lancaster Bombers. Helen couldn't see him outside the station so turned her truck and headed back. Then she spotted him halfway up a steep hill and waved.
'I wasn't going to stop on that hill,' she laughs.
Harry wasn't amused. As an officer, he could have caused trouble. Helen was duly sent for but as Harry said, "when I saw her, I thought I would either charge her, or marry her!".
Harry was only stationed there for six weeks, but within six months he had indeed married her.
Later, in the 1950s the pair moved to South Africa with their two children and then headed for Australia – first to Melbourne, then to Queensland's Sunshine Coast for 40 years, before finally moving into Bolton Clarke's Galleon Gardens Community at Currumbin Waters.
They have always kept busy, Harry designing their homes in Peregian Beach and Mt Coolum, Helen starring in amateur productions and more broadly developing her artistic and sporting sides. Both Harry and Helen have always believed in giving back when they could, and their link with the Services has never diminished.
Harry and Helen don't get around much as they once did, but they still enjoy a laugh and telling a good story. They are an inspiration to many with their sense of adventure and ability to make the most of whatever life dealt – yet live the life they wanted.
They often attribute their healthy, long lives to 'the right attitude, staying active and making the most of each day.'
"I've had a wonderful life," Helen said.
"I feel I've achieved everything I wanted." Harry added.
Tags: Centenarian's | Love
More from Galleon Gardens