Mildred's marvellous centenary of surprises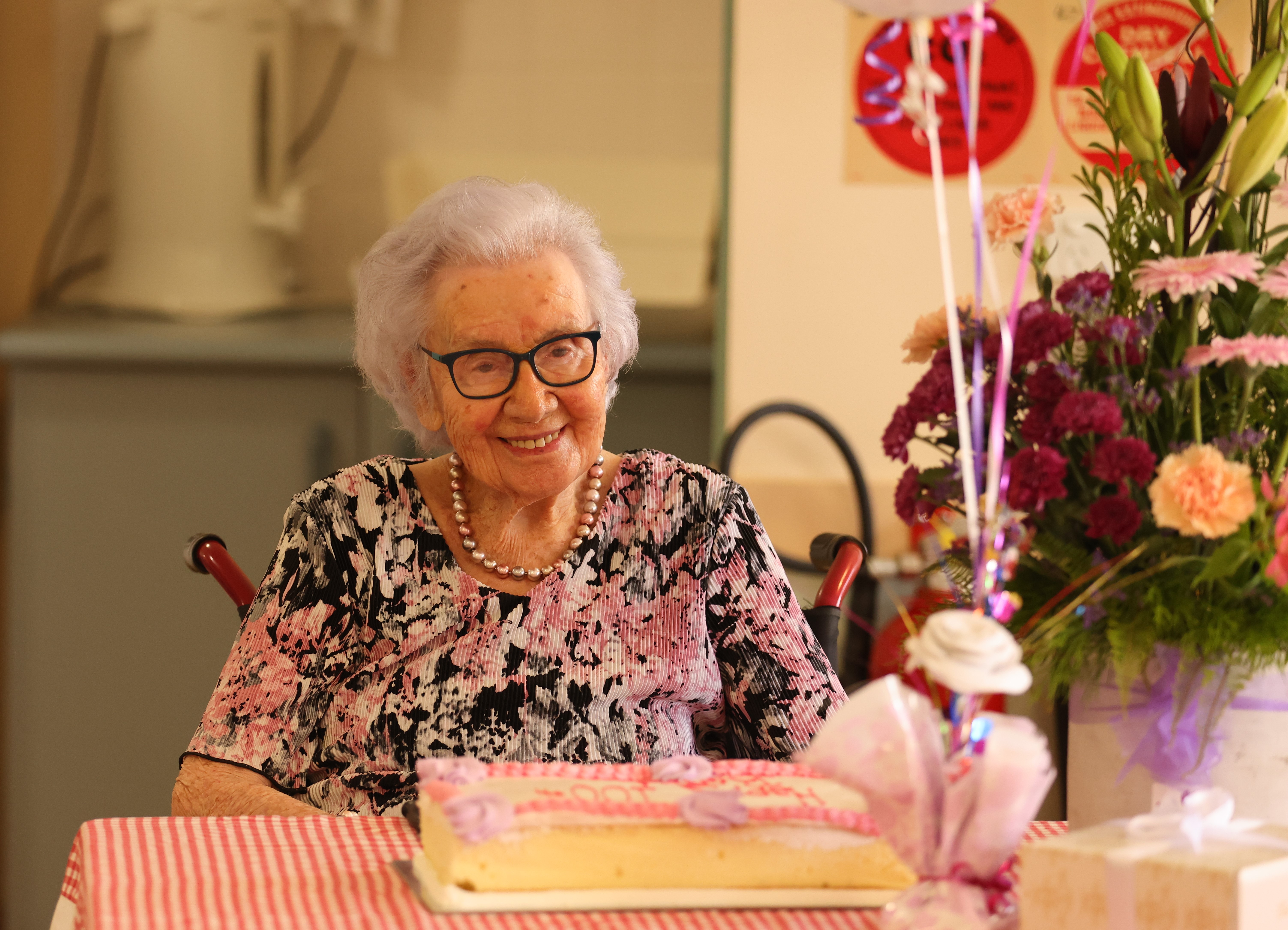 For Mildred Goldsmith, who celebrated her 100th birthday on 16 January, life has been marvellous – and full of surprises.
Not the least of which is the fact that she was born a twin.
"We were twins, which was a shock to everyone," she said.
The doctors thought her sister wouldn't survive the night they were born and it was touch-and-go for Mildred, too. Both made it through, but her sister died a month later.
"The doctor said he didn't think much of me either – but here I am."
For Mildred, who now lives at Bolton Clarke's Chelsea aged care community in Maryborough, the most memorable surprise was that of her wedding to her sweetheart Desmond Goldsmith on 16 March 1943.
Desmond was an Army man, part of the all-volunteer Second Australian Imperial Forces during WWII.
"Things weren't normal during war time," says Mildred.
"I was living in Ipswich and my husband-to-be had been away in Egypt, part of the 2/2nd Machine Gun Battalion.
"One day I was on the tram on my way to Brisbane for work, about to open my book when I just happened to look out through the window and there he was – driving past!
"He looked up and we locked eyes for the first time in two years and three months! I pulled the cord to get out and his driver stopped the car.
"We reunited for the first time on the side of the road. He had taken leave from the Army; it was a secret from me – and a big surprise!"
The pair were married at St John's Cathedral where a 'very nervous but very happy' Mildred wore a wedding dress borrowed from one of her friends.
"It wasn't like it is today," she said. "Many girls shared dresses back then."
After they married, Desmond served in New Guinea for a year, before the pair settled in Maryborough.
It was later in life that Mildred discovered her passion, Ikebana, the Japanese art of floral arranging.
"My maid of honour had a magazine with an advertisement for classes – and I joined. I went for all the lessons I could in Sydney, Lismore and Toowoomba."
Mildred learnt the artform from Norman Sparnon, a Japanese linguist and ikebana exponent, who wrote many books on the subject.
In 2003, Mildred co-authored her own book on the subject, "a journey into the art of Ikebana."
She travelled to Japan many times to pursue her studies and perfect her craft.
For her dedication, she was honoured as a Professor of Ikebana and has achieved many awards and distinctions in the field.
"I won one award, the prize for which was a gold watch. It is a treasured piece of jewelry now.
"I've had a remarkable life, teaching, travelling and learning the art of ikebana. I made many friends of all ages and it was a joy to me to see my students succeed. I have so much pleasure in receiving letters from ex-students.
"When you love something, you give it your best."
For her special birthday weekend, Mildred was honoured to be invited by Fraser Coast Regional Council to plant a tree in the Elizabeth Park rose gardens and received a commemorative Bolton Clarke centenarian teacup from the Chelsea aged care community to welcome her into the Bolton Clarke Centenarian Club.
"It was tremendous," she said. "I did a lot of smiling – I've had the most wonderful birthday."
"I've received so many special gifts and people came who I hadn't seen for some time and family from far and wide."
Mildred and Desmond had two boys and one girl and their family continues to grow with many grandchildren and great-grandchildren, including one born in America just days after her 100th celebrations.
"I've lost count how many there are!" she says.
Her advice for the next generation?
"I think we all have to cope with life as it comes and try to help others."
Mildred's story was featured on the Fraser Coast Library's Oral History: Having a Voice series, which is available on YouTube.