Helen celebrates her 101st birthday with sweetheart Harry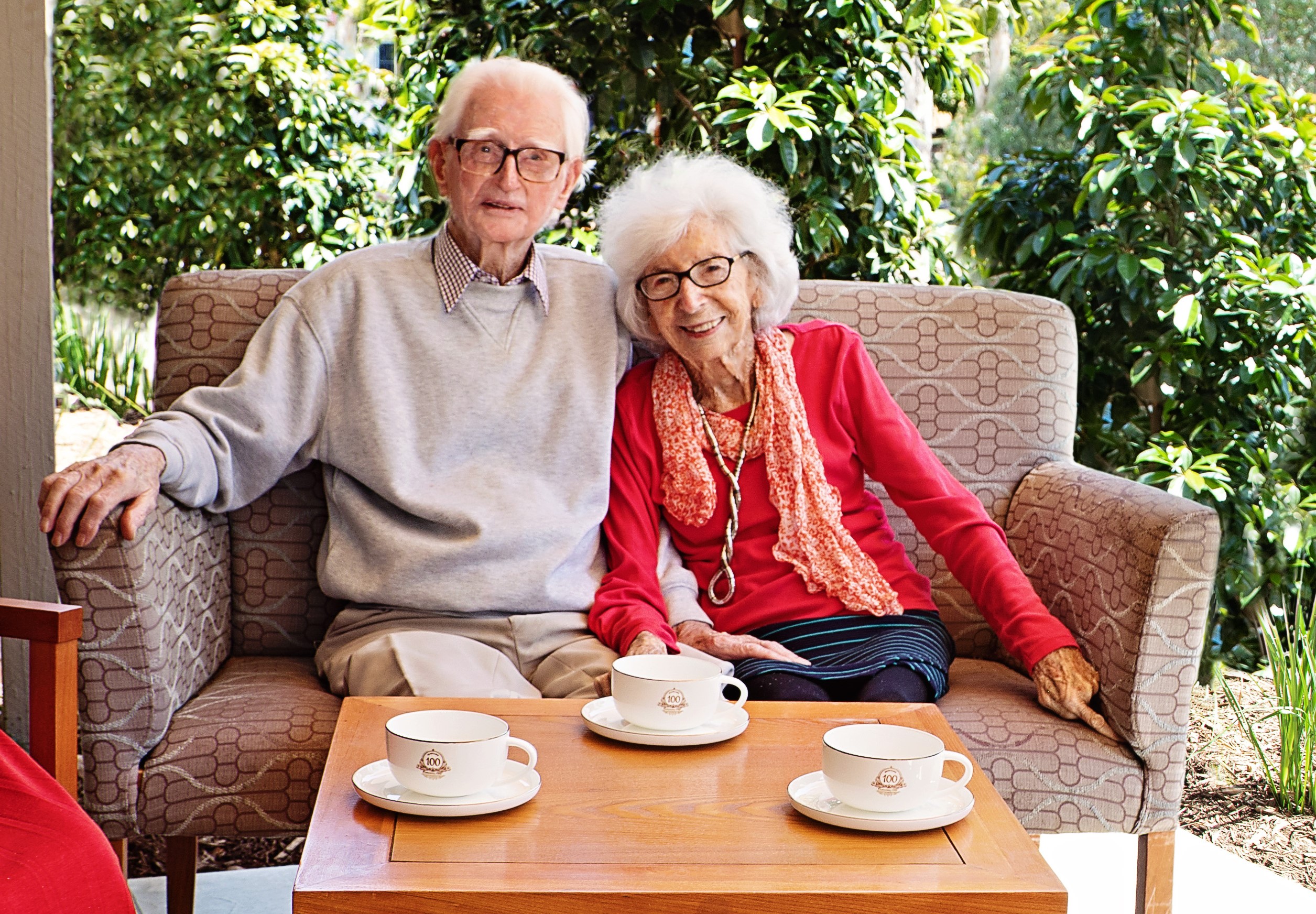 7 December 2020
Helen Christians' exact birthdate is a mystery.
She was born at home in Belfast, Ireland at the end of 1919 but by the time her father went down to register the birth a few days had passed, and the real date has been lost over time.
"My mother had six girls, and over time I think she got it all mixed up!" says Helen.
"Surrounded by so many women, my father used to joke that he was ruled by a 'petticoat government!" she chuckles.
When she was older and with big dreams to see the world, Helen left home to go to England.
"I love London," says Helen. "I thought I'd never get out of Ireland. But I did, and I joined the Air Force."
Helen was an Auxiliary Air Force Hurricane and Spitfire pilot in No. 504 Squadron for the duration of the war. She was one of eight women in her Squadron.
In 1945 and at the end of the war, she met her sweetheart Harry at an Air Force dance.
Helen's Squadron was now in Fighting Command and Harry in Bomber Command.
"Normally those commands don't get together, but this was one big do in the last week of the war," says Harry.
"In a crowded room of 130 people - she picked me!"
"It was love at first sight. He was gorgeous in his uniform," Helen says.
One year later they were married.
"I had to grab hold of her quickly," Harry says. "There were lots of other boys who wanted to take her out!"
"We've now been married for 73 years!"
"I've put up with him that long!" Helen says. "He looks after me."
Even though Helen is only two years older than Harry, she couldn't resist giving him a nickname.
"He's my toy boy!" she says with a chuckle.
After the war the pair settled together in South Africa, where Harry worked as an engineer and Helen a housewife.
Unfortunately, while in South Africa their two-year-old daughter fell ill with polio and could not be treated in Africa, Helen and Harry made the decision to move to the United States where she could receive proper medical treatment for her illness.
"I loved south Africa!" says Helen. "We'd still be there if it hadn't been for the polio outbreak. That was why we left."
"We were very lucky that she survived polio, on our street there were five families with sick children, and we were the only ones whose child made it. I wouldn't wish those kinds of illnesses on anyone."
The pair toured through Europe and after a brief time living back in England and Ireland, decided to start a family and moved to Australia in 1961. They had two children and settled in Melbourne, living on Malvern Road in Glen Iris, then at Carnegie and Rye.
"In Carnegie we had the most beautiful trees in our backyard", Helen recalls. "I'd got fed up being at home by myself, so I took a job."
Helen's love of travel runs in the family, and their son Michael moved to America after meeting his wife overseas. Their daughter, lives on the Gold Coast.
Helen talks about her travels fondly.
"London, Boston and Durbin are my favourite cities. I loved Durbin!"
"I've been everywhere, man," she sings.
Eventually the travel bug bit again, drawing them to the Sunshine Coast where Helen found two new passions in sports and art.
"I played a lot of golf on the Sunshine Coast, with Harry the handsome caddy close by!"
She also took up pottery and joined Noosa Arts theatre group, acting in productions including The King and I, Snow White and the Seven Dwarfs, Charlie Chaplin, My Fair Lady and Annie Get Your Gun.
"She was very good too," Harry says proudly.
"She was so perfect as Charlie Chaplin - her figure, her walk, it was really Charlie – you wouldn't have known it wasn't him."
"As I walked along, I had my walking stick and I'd pick up the ladies skirts!" Helen says.
"It was great fun."
Harry was in the background supporting the shows behind the scenes. "I couldn't go up on stage," he says, "Helen was far better suited to that than me."
"We do everything together," says Helen.
Today, that includes celebrating Helen's birthday with family and friends at their home at Bolton Clarke's Galleon Gardens aged care community in Currumbin Waters.
For her birthday Helen was gifted a commemorative Bolton Clarke Centenarian Club teacup. Bolton Clarke welcomes 166 new centenarians to its Centenarian Club this year.