Double century celebrations for Townsville couple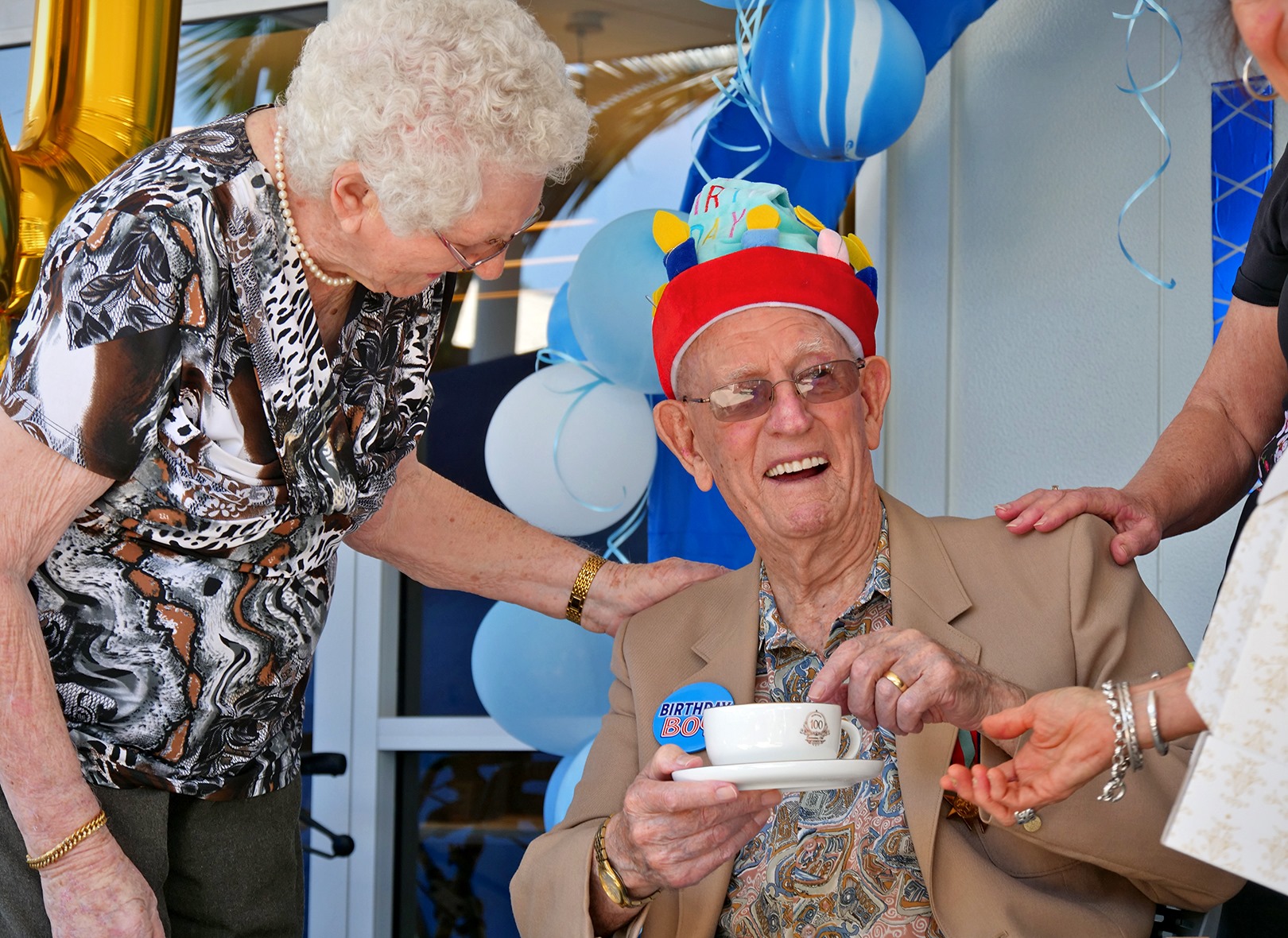 Reaching a century is always cause for celebration but husband and wife centenarians Max and Lorna have double the reason to celebrate in coming weeks.
Max turned 100 on 28 August, with Lorna's birthday close behind on 21 September.
The pair, who live at Bolton Clarke's Glendale aged care community in Mt Louisa and met when they were just 16 years old, have been overwhelmed with the level of revelry the occasion has attracted.
Max says he only remembers he's 100 because everyone keeps reminding him.
"It just happened," he says. "There's a lot of fuss about turning 100!"
Lorna is likewise bewildered by the attention.
"It just feels the same as it did the day before," she says.
Both grew up in Tasmania. Lorna was born into a farming family who owned orchards growing apples, pears and quince, until her father bought a dairy farm. After leaving school at 14, she helped on the farm milking the cows and delivering the milk with a dairy cart.
Max knew Lorna's brother first and used to go shooting and fishing with him. One day, in the little town of Huonville - 30kms south of Hobart- his mate introduced Max to his sister.
Lorna says she wouldn't quite call it love at first sight.
"I know I always thought he was a nice handsome fellow!" she admits. "We got on really well. We used to go to the pictures together."
Max too had left school at 14 and took on a motor mechanic apprenticeship until he joined the Navy on the 8th September 1939 after war was declared.
"We weren't called up for a few months," he recalls. "I went to Navy training in Hobart and then spent 2½ years on a ship."
In the early 1940's Lorna followed him into the services, joining the Army as a signal girl.
"I used to send and receive messages in morse code – but I never knew what they were about," she says. "They got sent to the decoding office to be interpreted."
Meanwhile, Max was training as a Navy gunner.
"The master of arms offered me to do a gunners course for the merchant navy and I was transferred to another ship and I trained and re-trained the gunning crew."
"I remember being on ship where we had little cabins with no shower and no real toilet – it wasn't too crash hot!"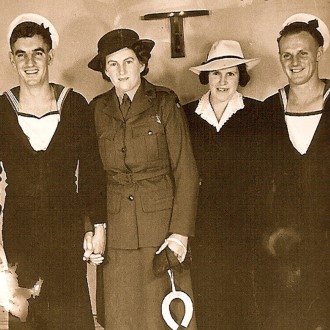 In 1943 they both took two weeks leave and were married on the 12th January. Lorna's mother planned the wedding for them, with only a few people in attendance and Lorna's sister as matron of honour.
"Mum got it all organized in one week!" says Lorna, "I wore my Army uniform, and Max his Navy uniform, and we had one week's honeymoon in Launceston. It was short and sweet."
Max returned to the Navy and was on a ship two years later when he learned of the birth of his first son.
"We could receive messages but could not reply, so someone had to take messages to shore. We were at sea when I found out I had a son, but I couldn't reply until three weeks later when we got back to Sydney."
Max received his discharge in November 1945 and returned to his career as a mechanic, eventually owning his own garage.
In 1952 he purchased his first motorcar for 50 pounds. It had no front bumper bar.
"We fixed it up and painted it a deep maroon and it looked very nice," says Max. "Then we sold it for 150 pounds."
This turned out to be a fruitful exercise which they repeated several times.
"We'd buy 'em, do a bit of work on 'em and sell 'em for an extra 100 pounds or so," says Max. "Then we started to fix up caravans too and sell those."
Eventually, Max and Lorna bought their own caravan.
"We did 50,000kms in our caravan," says Max. "There's very few places we haven't seen and every place we've been we liked."
"It wasn't always easy because there weren't always bitumen roads."
"We enjoyed everything," adds Lorna. "We went up and down the middle (of Australia) as well as going around."
Their travels provided many different experiences, for which they are very grateful.
"One place we stopped at had a pig pen out the back that was cleaner than the amenities!" says Max, chuckling.
"But if you don't travel you don't see those things."
"We ate the best scones we've ever had while waiting to go on a tour of a mine," says Lorna.
"The owner made them for us.
"Once we drove into a town and we knew it – even though we'd never been there before. It was a real deja vu moment."
The pair eventually moved to Buderim, and then to Townsville after one of their sons.
They will celebrate the dual birthdays among family and friends at Glendale and enjoy tea from their commemorative Bolton Clarke Centenarian Club teacups.
Bolton Clarke welcomes 166 centenarians into its Centenarian Club this year.