Lillian's big celebration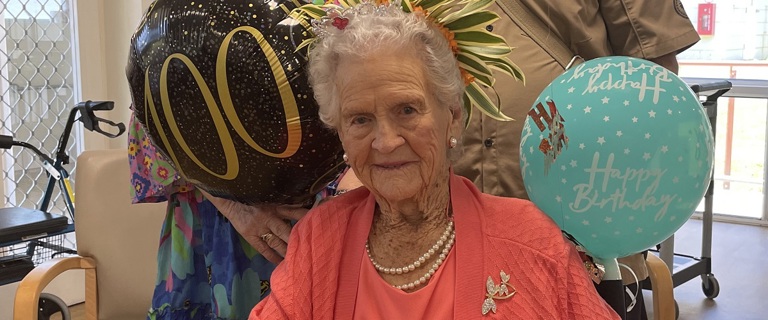 Cunningham Villas resident Lillian says she has never been one for big birthday celebrations - but she is willing to make an exception for her 100th birthday this month.
Lillian was born in Charters Towers in 1923 and has lived in the Whitsunday Region her whole life. She says growing up with her adoptive mother Mrs Crane and her five children has made her who she is today.
"I was in the orphanage for a little while, but not for long, and then I was adopted out to Mrs Crane. She was a hard-set woman but brought me up to be who I am," she says.
"I went to school in Charters Towers and I wasn't very clever, but I did win top of the class for History when I was 16 years old. There were only 60 students there and if you listened, you learned."
After school, Lillian stayed with the Crane family and helped with the kids until she met her husband. When he got a job in Bowen at the butchery and ice works, they made the move to the coast.
"We got married in Home Hill in 1953 and then we ended up having all of our five children in about eight years," she remembers.
"One of my sons lives in Bowen and my daughter lives in Brisbane, they come to see me all the time. I have 43 grandchildren and great-grandchildren!"
Lillian has lived at Cunningham Villas for three years now and says that she considers herself one very lucky woman.
"I never ever thought I would get this far to be turning 100. I was surprised to celebrate my 50th birthday let alone my 100th!" she laughs.
"I have no secret, I just worked hard and I have enjoyed my life. I can't complain about anything."
Residential Aged Care
Genuine care that comes from the heart
We create welcoming and safe aged care communities that you can truly call home.
Each of our homes provides the peace-of-mind of having a Registered Nurse on duty 24/7, supported by passionate care teams.
Find a home