Dot's birthday worth a century's wait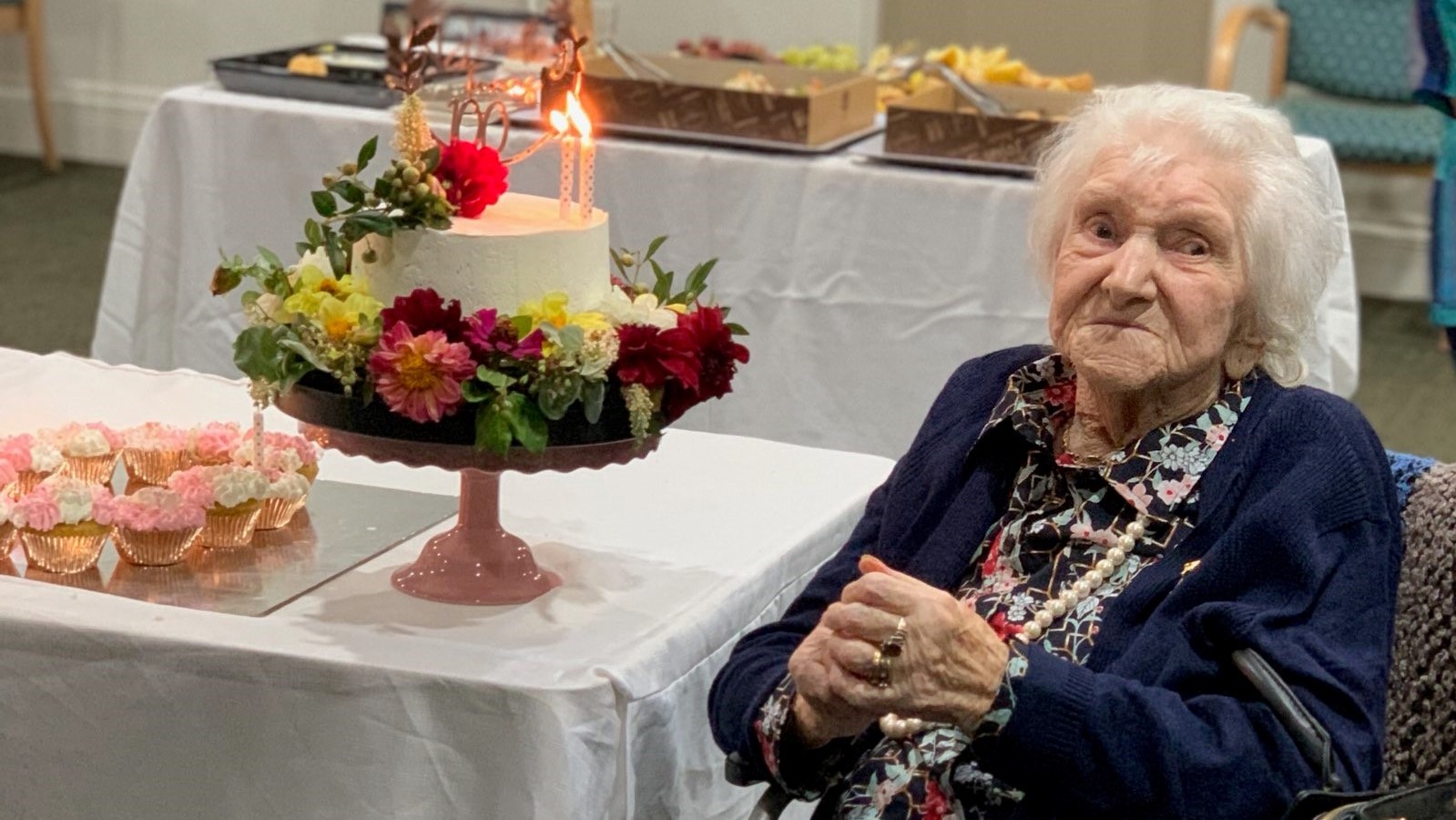 Dorothy 'Dot' Burgess couldn't wait to turn 100.
In fact, she's been waiting with such anticipation that she couldn't believe the day had finally arrived.
"I can't believe that I'm 100," she said. "I was surprised that my birthday had come up, I wanted to turn 100 so very much!"
Dorothy, who lives at Bolton Clarke's Macquarie View aged care community at Bolton Point, marked the occasion with not one, but two birthday parties. The first was with her family last weekend, and the second with the residents and team members at Macquarie View.
As a special birthday surprise, she was gifted a Bolton Clarke Centenarian Club teacup to commemorate her special day.
"All the nurses here are very good, everyone looks after me," she said. "My parties were lots of fun."
"And the teacup is lovely, I can't wait to have a cuppa in it!
"I love a big cup of tea."
Macquarie View Activities Officer Jenny Mahaffy said it was exciting to see Dorothy's dream fulfilled.
"The whole time Dot's been here she's had a goal to turn 100. It's exciting to be part of that and to help her celebrate her special day."
Born in Bromsgrove, England on 24 March 1921, Dorothy was the second youngest of six children.
"Bromsgrove wasn't a big place, but it was nice."
She had a happy childhood living in a row of five houses opposite the infant's school.
"When it was snowing, Mum would wait until she heard the school bell and then she would race us across the road and put us over the fence of the school.
"There were lovely meadows nearby that we used to walk through when the weather was warmer.
"We even had a large paddock behind our home where we would feed the cows and horses that lived there.
"I had a Pekingese dog called Snoops and a cat called Billy."
She finished school when she was 14 and began working at a clothing factory where she made waistcoats and sleeves for men's jackets.
Sometimes, Dorothy wishes she was in her twenties again.
"I had a really great time in my twenties," she said. "I was madly in love with this boy, but he had to go off to war.
"I had to let him down afterwards."
Dorothy met her husband during the war, when she was working in munitions, making bullets.
"I met Dressley when he came to work at the firearms shop next door to where I worked. There were lots of girls working in munitions then. It was a big shop turned into a factory."
They married in 1943 when she was 22.
"It was a simple wedding, just Dressley and I at All Saints Church."
Dorothy said her husband was very clever.
"He was in engineering and worked on the planes, so they wouldn't let him fight in the war."
When peace finally came, she returned to the clothing factory for a time and continued to work there as they started a family.
They had three boys while still living in England. Their daughter arrived after they had moved to Australia so that Dressley could be closer to his brother.
"Australia is nice, but I do miss England sometimes," said Dorothy. "Jenny showed me pictures of what my house looks like now. It's very different."
"But I've got sons and a lovely daughter, and I'm well looked after – so I'm very lucky."