Dancing on the tables at 100 years old!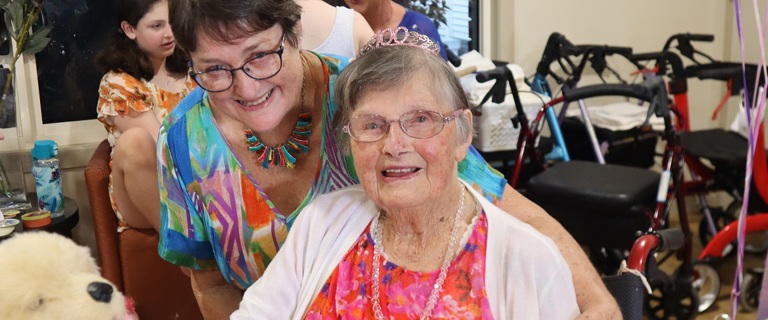 "It's my birthday! I'm 100, come and help me celebrate and we'll dance on the tables," - that's what Peggy Guinea's invitation to her 100th birthday celebration stated.
The Milford Grange resident had a birthday to remember, with neighbours from the co-located retirement community where she lived for eight years coming to join her friends from the residential aged care, along with family, staff and volunteers.
It's no wonder Peggy is so well loved in the community. She is described by her daughter Janice as a lifetime educator and someone who heals through caring.
Peggy came to Australia from England in 1924 with her parents and two siblings, growing up on a farm in Flaxton in the Sunshine Coast hinterland.
During the Depression years money was limited and she remembers everybody pitching in to support the family. Peggy recalls doing the washing for neighbours in the local creek and making bread rolls to help support her family with extra income.
She finished school in year eight and went into service for a local farmer's wife and their family. With them, she went to Brisbane and remembers staying across the river from a skating rink at the site of the present-day Brisbane Museum and Art Gallery.
"I used to love going to the skating rink, but you wouldn't even know there was a skating rink there now!" she says.
Peggy later worked in a cake shop, and at 18 years old did all the baking after the owner was conscripted for World War II. Her cookbook recipes still exist, with her son making Peggy's bakery chocolate shortbread as a birthday treat– breaking down the ingredients to lesser proportions.
"Every time I cooked something, I would cook 16 dozen," she laughs.
After marrying, she worked small farming crops while her husband Tom worked, as well as making clothes, milking and churning butter. Peggy was accomplished seamstress, always keeping her family of five in shirts, shorts, dresses and underwear. She was always caring and volunteering throughout her life, an example set for her by her Mother.
"When we were in Flaxton my Mother and I taught everyone in the schoolhouse how to dance with the old record player and it was the highlight of my life," Peggy says.
"My Mum always volunteered, and I so did too."
More recently Peggy has volunteered her time with some U3A groups and always helped bring people together. Until age 89 she lived independently, even managing to do her own mowing! It was then she decided to look at retirement villages.
When she moved into Bolton Clarke's Milford Grange community, she continued to give her time helping in the aged care community's laundry, folding clothes for the residents. Eventually she moved into the aged care community where she speaks highly of the community around her, still wishing she could volunteer.
"This is a lovely place to end my days," she says.
As for her legacy, Peggy now has three children and five grandchildren. They love to remember blowing bubbles together on the ant hills, or being taught nutrition, home economics and home remedies.
Most of all, they have a love of education, volunteering and helping others which is exactly what Peggy wanted!