Social butterfly Thelma sparkles at 103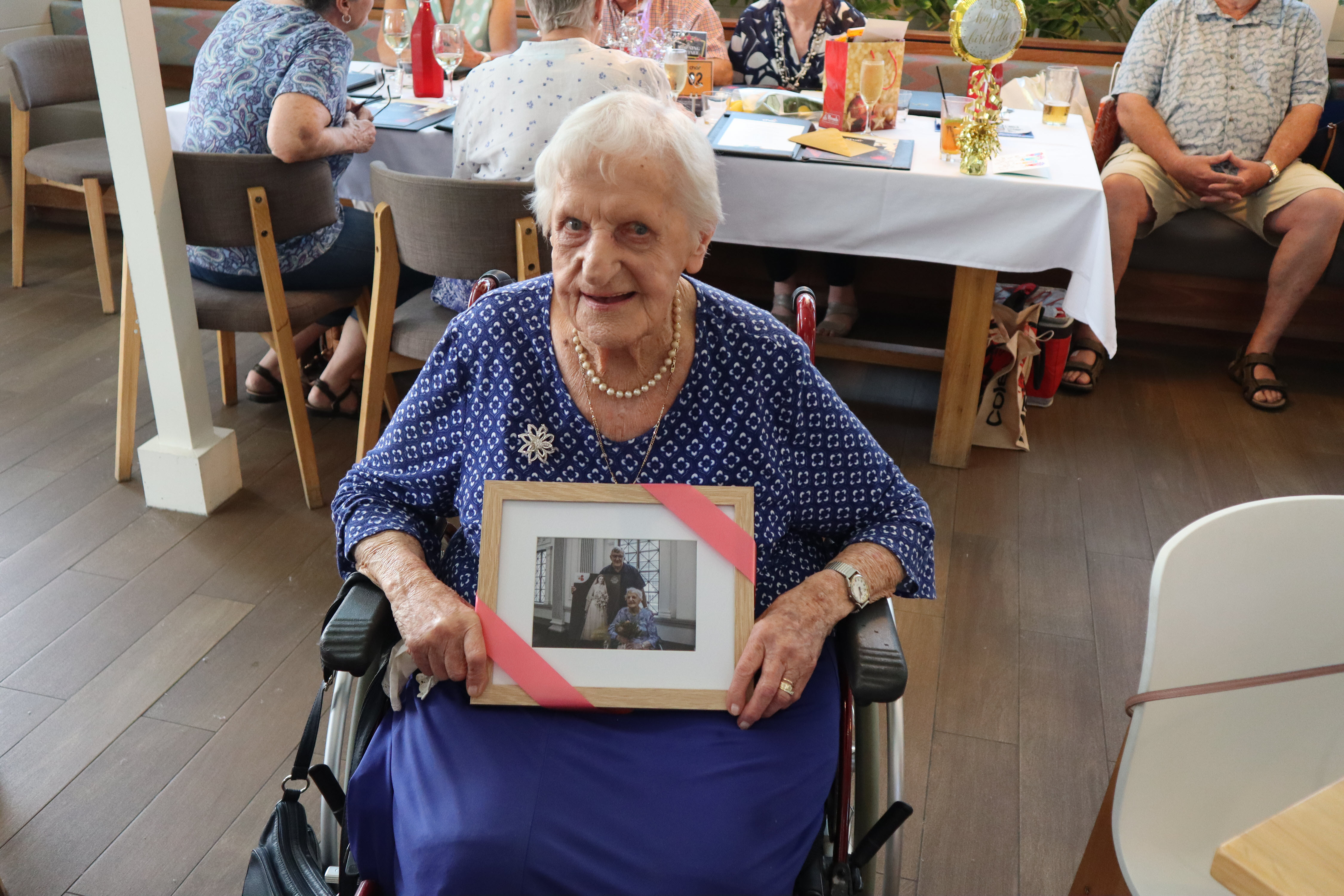 The secret to a long and happy life? Gratitude, according to Thelma Sprott.
Thelma, who celebrated her 103rd birthday on 28 November, lives at Bolton Clarke's Inverpine residential aged care community at Murrumba Downs and loves nothing more than catching up with friends and family.
"I thought I was going to have a quiet day today, but it's been much bigger and busier than I expected," she said on the day, glass of bubbles in hand and ready for a birthday lunch at the local Norths Leagues and Services Club.
"I've been on the go since I got up this morning with phone calls, morning tea and now here with the immediate family – that's the best part. I didn't want a party this year – I'm getting too old for that!
"You've got to take life as it comes, whether it's good or bad. Accept everything that is handed to you – that's all you can do."
"I'm grateful to be 103 but especially to be well at 103. I've still got my wits about me!"
Family is a focus of Thelma's life, and her home is filled with photographs of family and friends.
"I have four sons, 12 grandchildren and 18 great-grandchildren. I have to have a phone in my room - I don't know what I would do if I couldn't keep up with all the news."
A lifelong Brisbane resident, Thelma loves being creative and when she first moved to Inverpine was known for her cross-stitch.
Born on 28th November 1916 in Canungra, she was the sixth child of Rosina and Victor Shogren. Ultimately the family included nine children – six girls and three boys.
When she was six they moved to Sherwood in Brisbane, with Thelma eventually attending Brisbane State High where she competed in hurdling and netball.
In 1930 she accepted a job at Morrows Biscuits and worked there for 10 years, undertaking roles including hand-icing the iconic Iced Vovo Biscuits.
Thelma remembers the depression years when her mum would make bloomers from white calico bags of Sea Foam Flour.
"The Sea Foam print would not always wash out and you could end up with it written across your bottom," she says.
She met husband Eric Sprott when her older sister married Eric's brother. They courted for 15 months before marrying on 19th April 1941, honeymooning at Redcliffe and moving into a house in Corinda which they rented for 10 Shillings a week.
The pair moved to Petrie in 1949. Eric worked as a panel beater for several years before becoming Service Manager for North Pine Motors.
Thelma was active for many years in her local church which she still attends as often as she can as a loved member of the congregation. She is also a Life Member of Pine Rivers Rowing Club and in 2018 the Thelma Sprott Boathouse was named in her honour.
She continues to be a social butterfly and looks at her years ahead with gratitude tackling each one, "one day at a time."