A birthday worth celebrating for Janet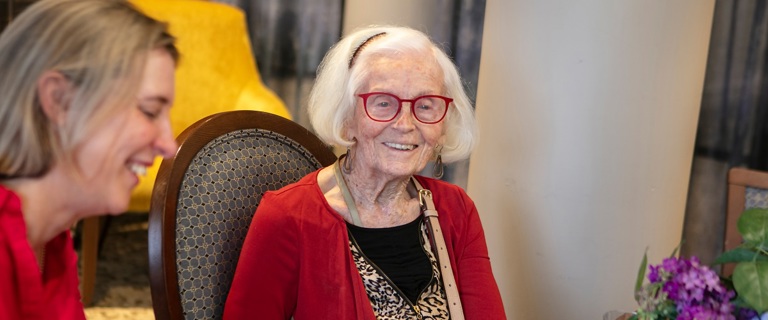 Keeping active is the secret to a long and healthy life according to Allity Claremont Terrace resident Janet Gibbs, who celebrated her 102nd birthday this month.
Born in Rotorua, New Zealand, Janet moved to Australia when she was three years old and hit the ground running.
"I have always been hyperactive. I loved sports like golfing, lawn bowls, tennis, hockey, and riding push bikes around St. Kilda with my friends," she said.
"I played golf until I was 86 at Patterson River Golf Club, then I joined the lawn bowls. I think you need a sport.
"Even today at my age, my aim is to walk around the garden six times every morning and in the afternoon, a walk with lifestyle staff around the block."
After starting nursing at the age of 17, Janet went to night school at 28, taking typing and shorthand classes and working as a stenographer.
After marrying, she travelled with her husband to England by ship where they lived for three years and welcomed the first of her three sons.
There are two things Janet prides herself on - staying independent for so long, having only made the move into aged care just before her 101st birthday, and her teeth - she's proud to say they're still serving her well!
"I moved to Claremont Terrace two years ago, at 100 years old," she explained.
"I have never had a fancy birthday. However, I remember that when my husband was still alive, our family held a birthday dinner with family and friends and for me, which was quite exciting."
Now at 102, birthdays are something worth celebrating. Janet says she has no regrets looking back on her life, and a simple piece of advice for those asking.
"I handled myself and my family pretty well," she said.
"My advice for others is to just be happy!"
Residential Aged Care
Genuine care that comes from the heart
We create welcoming and safe aged care communities that you can truly call home.
Each of our homes provides the peace-of-mind of having a Registered Nurse on duty 24/7, supported by passionate care teams.
Find a home