Day respite an essential support for carer Leanne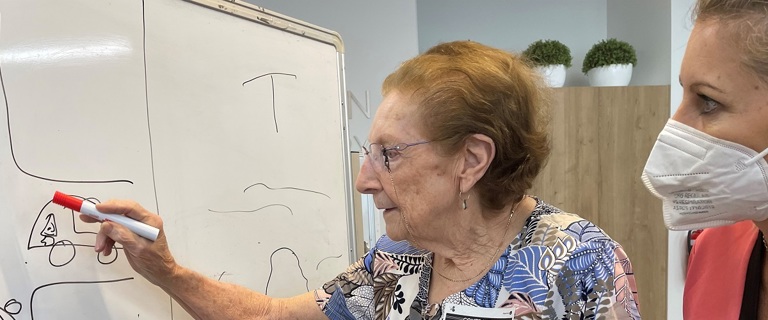 A Caboolture day respite program is providing essential support for family carers and important social connections for people with dementia.
The Bolton Clarke Fernhill Day Therapy Centre operates three days a week in a dedicated space at the state-of-the-art Fernhill community, delivering short-term centre-based respite in an enabling environment supported by on-site lifestyle, nursing and allied health teams. It focuses on therapeutic outcomes and structured programs around mental stimulation and socialisation.
For Coral, going to Bolton Clarke Fernhill's Day Therapy Centre three days a week helps her keep her mind and body active with activities such as brainteasers, art, laughter yoga and drama activities while it eases the stress on her full-time carer and daughter Leanne.
"When I go to the centre for the day, we talk and do things with the group and its all entertaining," Coral said.
"My memory isn't good anymore, so I'll often have to ask a few times about things, but the staff are so helpful."
Coral is collected by the centre bus, giving Leanne the space to go to work without worrying about her mother's safety at home.
Coral and Leanne said they were referred to the centre earlier this year and it has already made a difference to their wellbeing.
"I have been a carer for mum for a few years now and she lives in a granny flat at the back of my house, so it's a full-time job on top of my normal job," Leanne said.
"When Covid restrictions were around it was very difficult – she actually got worse without any contact with other people.
"The centre stimulates her brain and gives her a social outlet so she isn't sitting here by herself getting more and more confused every day."
"It helps me so much because I know she is safe, she is with people and she is enjoying her day," Leanne said.
"The team are fantastic and always help with any issues we may have or provide assistance with getting mum to centre on each of the days."
This week is National Carers Week and recognises the 2.65 million Australians who provide care and support for a family member or friend.