Disney dreams come true for aged care residents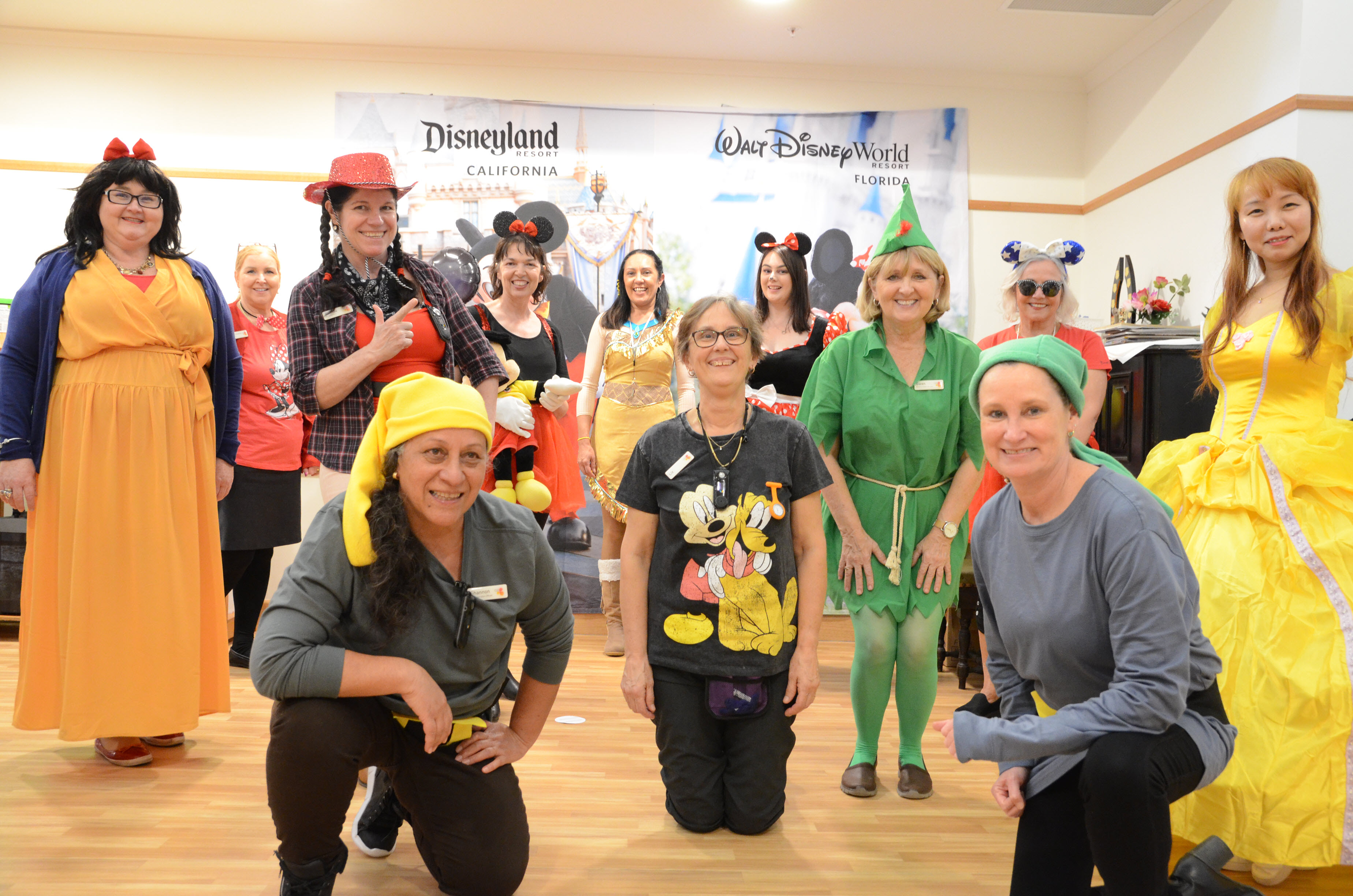 Overseas travel restrictions have been no barrier to fun for residents at Bolton Clarke's Galleon Gardens aged care community in Currumbin Waters, who recently enjoyed a magical trip to Disneyland from the comfort of home.
With a little help from technology, some community generosity and a sprinkle of creativity, Bolton Clarke Diversional Therapist Gwen Bonney and the Galleon Gardens team were able to bring the happiest place on earth alive right here on the Gold Coast!
"We wanted to put some extra smiles on our residents' faces," she said. "We asked all our team members to dress up as a Disney character for the day to really make it feel like you were there. The residents loved it – and so did we!"
The set up included a donated Disney photobooth backdrop, Mickey and Minnie Mouse ears aplenty, and Mickey-mouse cupcakes constructed with Oreo cookies for ears in little red and white polka dot patty-pans.
Resident Eva Bagi who recently celebrated her 100th birthday at Galleon Gardens said she loved wearing the Minnie Mouse ears.
"It makes you feel like a child again!" she said. "I was really pleased to have a photo and receive a gift bag – it was a lot of fun."
Residents were also treated to a walk-through Disneyland Park, via an official 20-minute tour video.
"The residents really enjoyed the excitement, and everyone received a photo of their stay in Disneyland," said Gwen.
Husband and wife residents Harry, 97 and Helen Christian, 100 said the magical day reminded them of trips they have taken to America to see family.
"We love our photos," said Helen. "We enjoyed the video and all the effort put into making this a fun day. We loved the Mickey Mouse cupcakes! We have been to the USA many times and this brought back great memories."
Fellow residents Betty Armstrong and John Johnston also enjoyed the day.
"I've been to Disneyland and really enjoyed it," said Betty. "Today reminded me of all the fun we had on that trip."
"I would enjoy going back to Disneyland again," agreed John.
The prize for best dressed Disney character was awarded to Personal Carer Nichole Burgess as Pocahontas.
Gwen said the event was specially constructed to be held in various areas of the aged care community, promoting fun and delivering smiles in a safe way.
"The Disney day was greatly appreciated by all of our residents and team members," she said. "It's been a challenging year, so it was good for everyone to have some fun!"
"We were still getting comments about it for days after!"