Excellence in Rowes Bay: aged care worker receives State award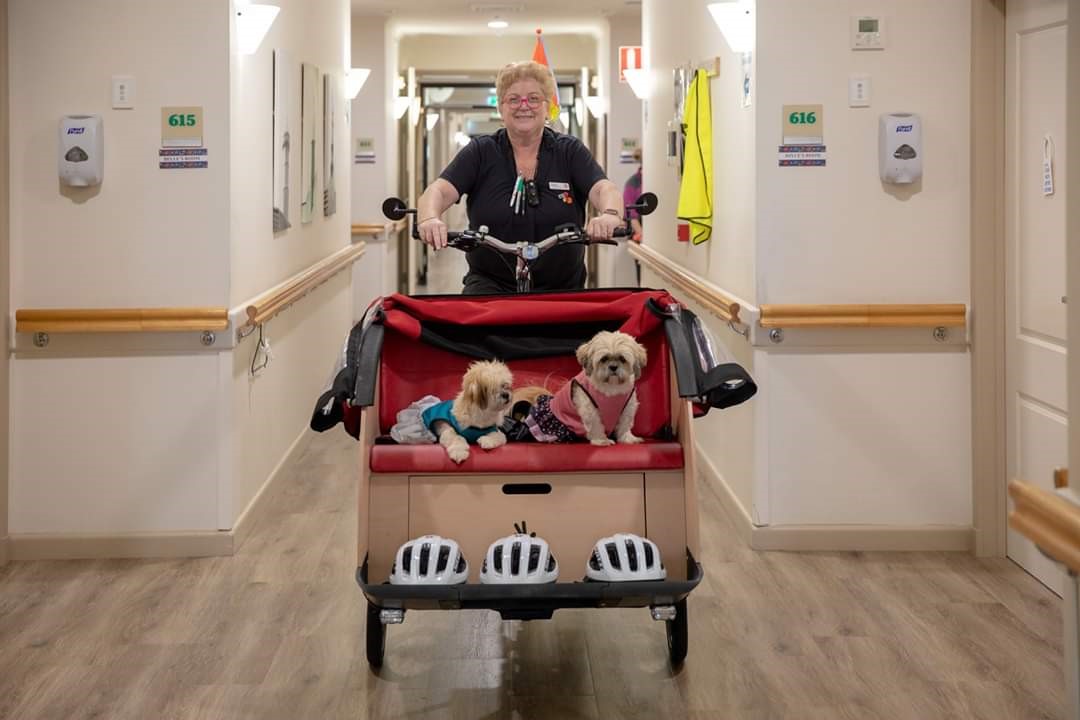 Bolton Clarke Rowes Bay Diversional Therapist Chezz Thompson has been named best in the state, winning the Leading Aged Services Australia (QLD) Awards for Excellence for an Individual working in aged care.
"It's my calling," says Chezz. "It's also the first time I've won anything. I was already a winner to start with because I love working here with my residents."
Chezz accepted the award on Aged Care Employee Day last Friday, 7 August, with her dogs China and Sherbet by her side.
Chezz is passionate about improving quality of life for residents and has worked hard to develop a pet therapy program at Rowes Bay that includes twice weekly visits from China and Sherbet – who have undergone special training for their roles - and a monthly visit from Guvnor the horse. Her passion for animal-assisted therapy has been bringing smiles and boosting resident health and wellbeing for more than eight years.
"China knows every room at Rowes Bay," Chezz says. "The change in residents when they spent time with China is amazing. I'm very passionate about pet therapy."
Guvnor the Clydesdale-cross-Percheron is also a regular visitor and "mental health facilitator", with residents including his former owner. He is particularly popular with residents with dementia.
"Our residents loved it. Residents that have limited cognitive abilities there seems to be a connection when Guv looks at them, it's relaxing for many residents," she says.
She also helped develop the Cycling Without Age service for Rowes Bay, which connects volunteers with aged care community residents to cycle the beach front in a trishaw, encouraging residents to be more active and involved in the outdoors. In addition, Rowes Bay residents enjoy monthly multicultural celebrations, regular fishing trips at the local jetty and picnics twice a month to help them enjoy the outdoors and stay connected with the wider Rowes Bay community.
Most recently, Chezz has been working to start a Men's Shed for Rowes Bay men, with the first projects including making bird houses and refurbishing an old church pew.
She shares her awards joy with team members from Bolton Clarke's Let's Dig In team, based in Brisbane, who were awarded the State title, Team category, for their therapeutic horticultural gardening program implemented at Bolton Clarke's Inverpine community, north of Brisbane.