Volunteering an unexpected joy for Holly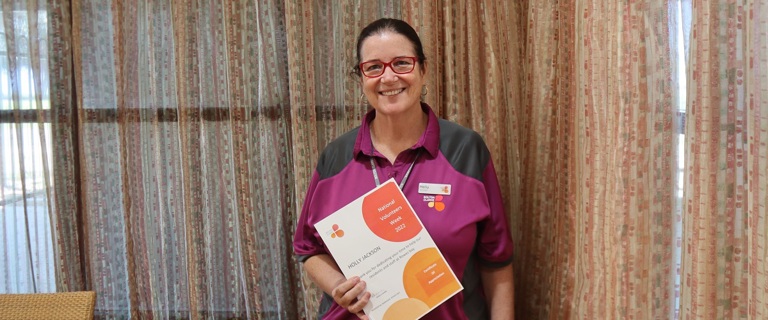 Bolton Clarke volunteer, Holly, started volunteering at Rowes Bay in July 2020. She was looking for a new opportunity and instead says she found 'great and unexpected joy'!
"I had no idea what to expect. I found the opportunity through the Volunteering North Queensland website and when I started, I was so pleasantly surprised," she said.
"After coming in and talking to Chezz, the Diversional Therapist, and finding out more about the things that volunteers at Bolton Clarke do, I couldn't wait. I felt really fortunate to have found them, and I started immediately."
Now, Holly volunteers three days a week across multiple activities in the community. She runs the library and book trolley and does special one on one and group reading sessions with residents.
Holly is also supporting the re-launched postcard project where members of the community write short postcards to residents who then have the opportunity to respond and build a socially distanced friendship.
"It is so nice to be able to give back to the residents – I had no idea how much I would enjoy it, every day I feel lucky, it's a privilege to be here and we have fun.
"Volunteering is win-win. I think the residents give me more than I am sure I give them. The role we play as volunteers is so lovely, we get to bring fun wherever we go!"
Rowes Bay Diversional Therapist Chezz Thompson says that Holly is Rowes Bay's volunteer of the year, and presented her with a special gift and certificate as part of the National Volunteer Week celebrations at Rowes Bay.
"Holly is incredibly dedicated, and so loving to our residents. She is so deserving of this acknowledgement," she said.
Become a volunteer
Make a difference in your community and to the lives of our residents.
As a volunteer you can help others while sharing your interests and skills. By providing support, fun and companionship you help to maintain important social connections in our residential aged care communities across New South Wales and Queensland.
Register now