Marriage harmony: aged care couple renew their vows in Valentine's ceremony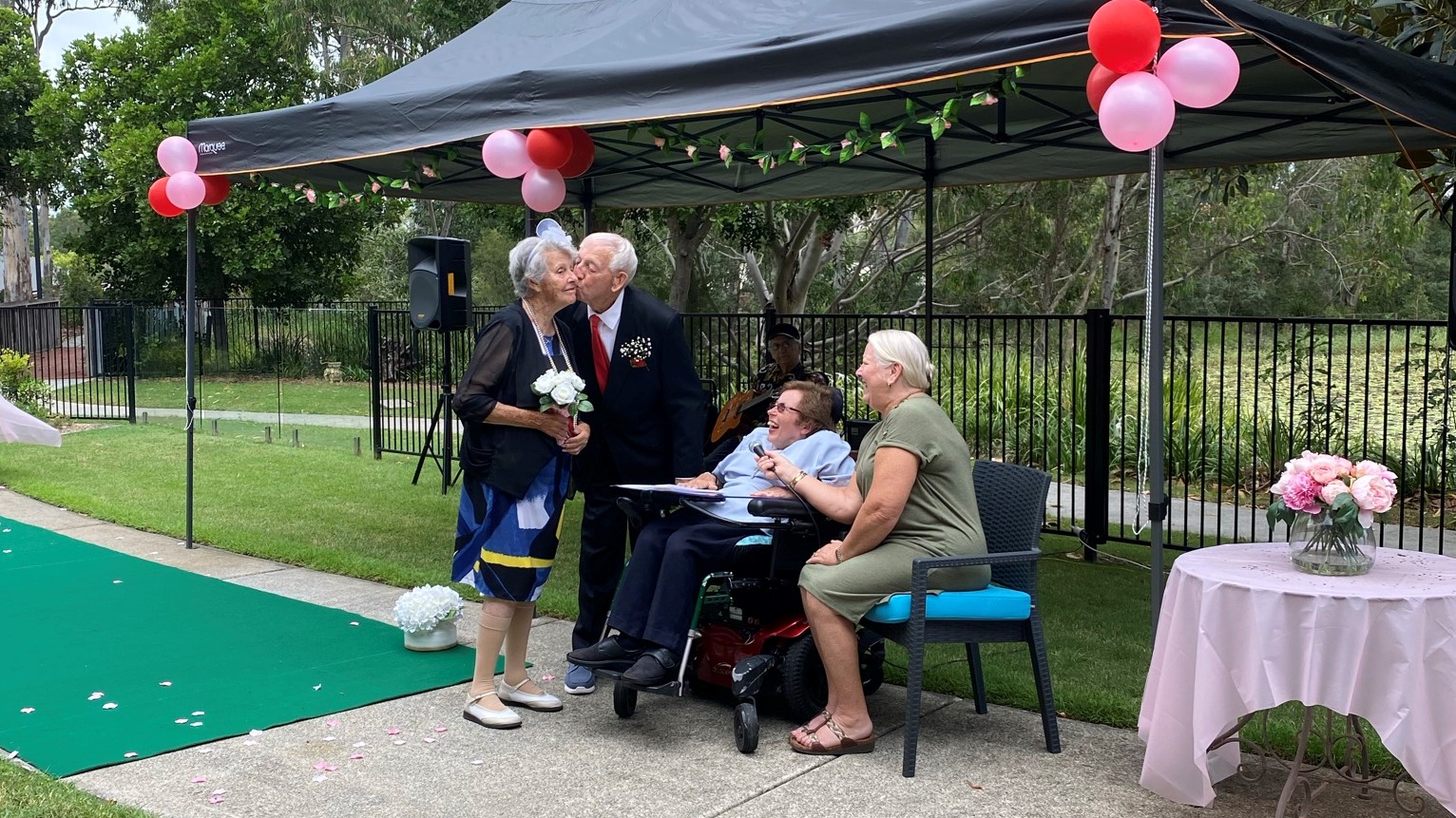 Clifford and Shirlie Canhan know what it takes to make a marriage last a lifetime. The happy pair said their secret – and advice to others, is about keeping the peace and harmony.
"Just don't have arguments! Have discussions," said Shirlie.
A concept perhaps easier said than done, but not according to Clifford and Shirlie.
"It seemed fairly easy to me," said Clifford.
"We've had no problems," said Shirlie, "but then we've never had fights. If we disagree – we disagree and might discuss it a bit, and that's it!"
After 66 happy years together, the pair took the opportunity this Valentine's Day to renew their vows in front of friends at Bolton Clarke's Moreton Shores aged care community, once more promising 'to have and to hold.'
They were first married in Sydney, following a two-year courtship.
They had met as children, when Shirley's grandparents lived across the road from Clifford's family home and attended the same church while growing up.
Falling in love was a natural progression from friendship in their teen years.
"I was actually going with another girl from our church, just a friendly association," said Clifford. "I used to walk her home from gymnastics and one of my mates used to walk along with me. One night, he asked if I would mind not bringing her home, because he wanted to court her. I said that was okay – because I was waiting for Shirlie to be old enough so I could start courting her!
"So, he married Marley, and I married Shirlie."
When they began their courtship, Clifford was 19 and Shirley, 16.
"We went together for about three years, getting engaged when Shirlie was 18," he said.
"I proposed to Shirlie for a start, and then I had to go and ask her parents. One night I was down at her house and her father was wandering outside, and he went to the outhouse.
"So, I stood outside and asked, 'would it be okay if Shirlie and I became engaged?' He said I'd better wait until he came out of there and then we could go inside and ask his wife!"
"It was very romantic," Shirlie laughed.
They married a year later.
"I was so excited," said Shirlie. "I wasn't nervous. I really enjoyed my wedding day."
They had two daughters and now more grandchildren than they can count, with five great-grandchildren joining the family more recently.
The perfectly matched pair were thrilled to renew their vows in the special ceremony arranged by Bolton Clarke Residential Manager Sam Bolanghe and Diversional Therapist Lauren Murphy.
"It was very nice of them to put it on for us, and we really appreciate it. When it was first suggested we thought it was going to be a couple of people around us – but then it turned into something much more, and very special. Lauren has done a great job sorting everything out and arranging others to help and come and celebrate with us," said Clifford.
"We're happy here and this is where we're going to stay. The team does a very good job."
When asked if they're still as much in love with one another as they were at the beginning, Shirlie doesn't hesitate.
"Of course," she said. "Even more so perhaps."
"It's a beautiful relationship," adds Clifford.