Arthur swaps bus for scooter in veteran challenge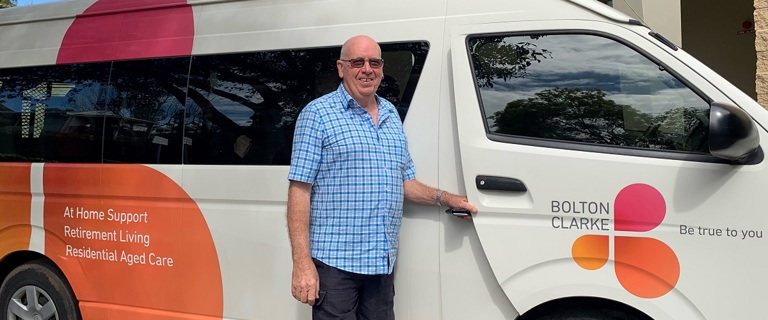 Maroochydore man Arthur Reeves, 77, is a familiar face for Bolton Clarke Tantula Rise aged care and retirement living residents, having volunteered behind the wheel of the community bus for the past seven years.
Now he's about to pilot a different set of wheels as one of a team of veterans riding 15 50cc mopeds from the RAAF base in Amberley to the RAAF base in Townsville in the Scootaville 2022 challenge from 3 September.
The 16-day, 2000km challenge will raise money to support the families of veterans through Legacy.
"We're all doing it for enjoyment and fun," he said.
"It will be a challenge but I'm fairly active and I am keen to see if I can do it and make it the full distance."
A highlight along the way will be a welcome from each local mayor as regional communities from Kilcoy to Longreach, Winton, Hughenden, Charters Towers and Townsville get involved - with Bolton Clarke clients and residents in Townsville and Longreach expected to be among those joining the excitement.
Arthur was an infantry soldier in the Vietnam War where he served in the 5th Royal Australian Regiment during their first tour in 1966-67.
"I was sent on the first operation to Nui Dat where the Australian task force built our base," he said.
"I worked in the support section in the company headquarters.
"We were like a bodyguard for the company commander and came in after things happened."
These days he continues to give back to his community as a volunteer, visiting fellow veterans and supporting the Tantula Rise community.
"I like being able to get out to meet people and make a difference especially in aged care homes," he said.
"People need to get out there and do something for other people.
"A lot of us retirees have a lot of time and there is nothing better than volunteering.
"It gives people a sense of achievement, of self-satisfaction which is fantastic."
He asked people to give generously for the charity event.
"My message to those regional communities is get ready - we're coming to see you," he said.
Tags: Volunteer | Vietnam Veterans Day 2022 | Veterans