Cuddly kittens create special memories at Westhaven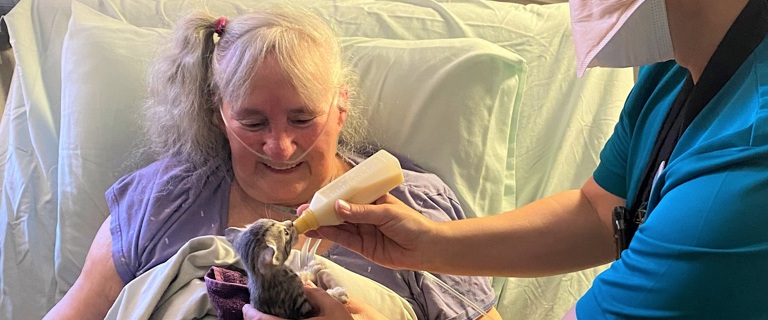 Residents at Bolton Clarke's Westhaven residential aged care community have been warming up in the cooler months, enjoying visits from four cuddly orphaned kittens.
Diversional Therapist Melissa Stam has been caring for the kittens for several weeks after they were found at the farm where her husband works. She says therapeutic benefit to residents of interacting with the tiny bundles of energy has been wonderful to see.
"We think the kittens are around three to four weeks old now," she said.
"I bring them in to visit the residents in the nursing home and the Special Care Unit and the response from some of the residents has been really beautiful.
"Lots of them have a lot of treasured memories with their own pets, including cats, so being able to pet, hold and sometimes even feed the kittens is evoking a lot of strong positive emotions.
"In some cases, we are seeing residents who have been quite withdrawn and down, light up when the kittens are brought into the room."
Resident Yvonne owned her own tortoise shell cat, Bella, who lived to be 18 years old. For her, seeing the kittens brought back a lot of happy memories.
"It's been a long time since I've had a little one this tiny to play with," she said.
"I missed my baby Bella so much when she died. I have always loved all animals, I had dogs as well, but when I was living in the unit a cat was the easiest pet to have.
"When Bella was a kitten she would climb up onto Ozzy, my German Sheppard's tail and he would carry her around, they just loved each other to bits.
"These kittens are beautiful; they have such precious little faces. This is the first time I've seen this little fellow and now I'm going to keep him! It's so lovely when we get special little visits from the animals."