Marianne's been spreading colour for 80 years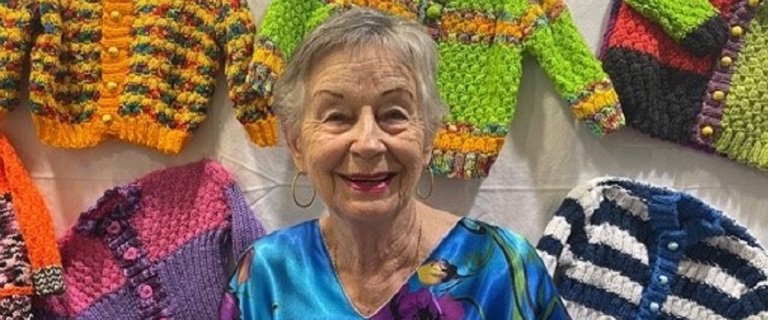 Bolton Clarke Glendale residential aged care resident Marianne Garland, has been spreading joy around the world with her colourful knitted creations for more than 80 years.
Originally from Germany, Marianne was introduced to knitting by her mother when she was just five. Her love of the craft has always played a huge part in her life.
During World War II, she remembers she and her mother would knit gloves and socks for people who had lost everything.
After the war, and during one of the coldest winters on record, they worked to unpick and remodel knitwear so that it did not go to waste. They also traded their beautifully knitted clothes for food during widespread shortages which lasted long after the war had ended.
Eight decades later Marianne's knitting needles are still busy - for the past 19 years she has been knitting for charity, starting with pretty dresses before she saw a need for children's cardigans.
Her beautiful creations have now been distributed to children in need down the east coast of Australia, as well as in overseas countries.
Marianne says she still knits around 55 cardigans per year, always keeping them as colourful as possible to bring happiness to the recipients.
"The children are not alone in gaining from my knitting, my arthritic fingers are being kept busy and it gives me a good feeling to know that I can still be useful to society at the age of nearly 87!" she said.
If you would like to help Marianne in her endeavours, she is always looking for donations of 8 ply acrylic wool. Please contact Debbie at Bolton Clarke Glendale on (07) 4725 3500 for more information.