Glendale couples mark day of love together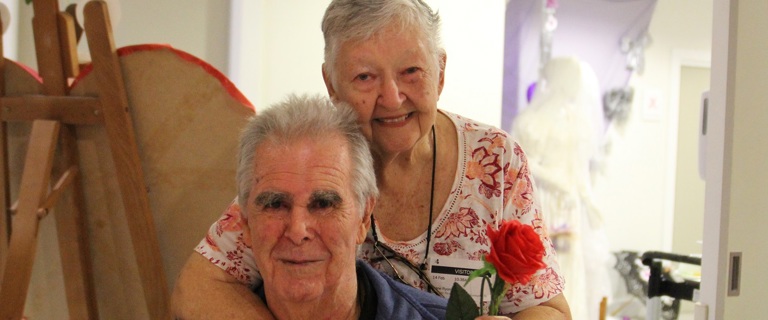 Residents at Bolton Clarke's Glendale Residential Aged Care home celebrated enduring love on Valentine's Day, taking their spouses on a romantic date.
Seven couples were treated to a special lunch date to mark the occasion.
Resident John and his wife Dianne said they had never had much time to celebrate in the past but were enjoying making up for it with more time together now.
"We have been married for nearly 49 years, but we were always too busy so never got the chance to do much," Dianne said.
"John has been here since June and has dementia, so it's nice to visit whenever I can, and this lunch means so much to us.
"We were both in our late 30s when we got married but both wanted kids so we started straight away, and our family kept us busy," she said.
After meeting on a blind date almost 50 years ago, resident Helen and husband Ian had lots of memories to reminisce on for this special Valentine's Day.
"It's really nice to have something like this to celebrate the day," Ian said.
"I drive a taxi, so it's a busy job, but I wasn't going to miss today. I have parked the car out the front and turned the meter off!" he said.
The three-course lunch was held in a private function room of the Glendale residential aged care home and was one residents and their spouses say won't be forgotten.
Residential Aged Care
Genuine care that comes from the heart
We create welcoming and safe aged care communities that you can truly call home.
Each of our homes provides the peace-of-mind of having a Registered Nurse on duty 24/7, supported by passionate care teams.
Find a home