Residents relive trackside memories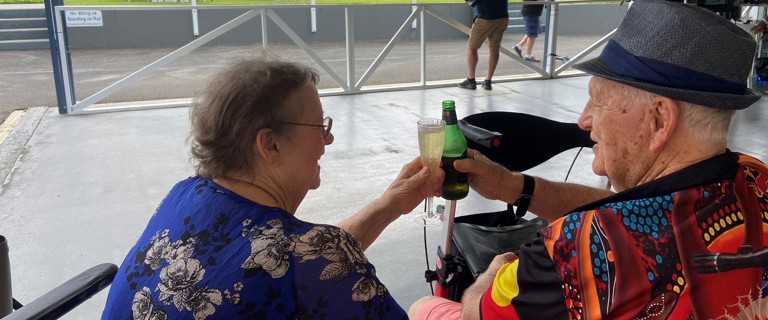 Spending the day at the races is always full of fun, but for Bolton Clarke Farnorha aged care residents Ray Anderson and Lola Nolan, being back at the Cairns track this week brought back happy memories – as well as providing an opportunity to make new ones.
"I love the races because I come from a racing family," said Lola.
"My father and brother were both jockeys. I used to go and watch them with my mother and other siblings.
"Mum was always so proud and excited when dad rode a winner!"
Lola's father, Patrick Falvey, raced mostly at Cooktown, while her brother Ronald Falvey raced in Cairns. Lola attended her first race at five years old.
"I've been to too many to count, now!" she said.
"The last time was a few years ago when I lived in Brisbane. It was good, I used to go all the time when I lived down there, so it was nice to be back at a race and enjoying a glass of champagne."
Ray was excited to have a punt – and after studying the form, he picked a third-placegetter.
"I came close to a bigger win too, but it wasn't to be," he said.
Ray enjoys a regular sporting bet with help from his son who visits each week to help Ray fill in the slips and placing the bets for him.
"It was nice to be here in person to do it all myself," he said.
"I liked visiting the mounting yard too – and having a nice cold beer! We made friends with some younger racegoers too. We had a great time out there. I was impressed with how much the racecourse has improved since last I was there."
Ray recalled his first time seeing a race with friends in New South Wales when he was 10 years old.
"The first race meeting I ever attended, my friends and I ran along the Lachlan River at Forbes and hung along the fence to watch the race.
"Then when I was 13, I went to the Epson Metropolitan Day at Randwick with my family. That was special, a lot of fun."
Lola and Ray were joined on their big race-day out by Bolton Clarke Farnorha Residential Manager, Fiona Power.
"We had a great day at the races! It was so nice to be able to take two passionate racing fans out to the track," she said.
"You could see the joy on their faces the whole day, that they were doing something they truly love."