Isolation no match for a love connection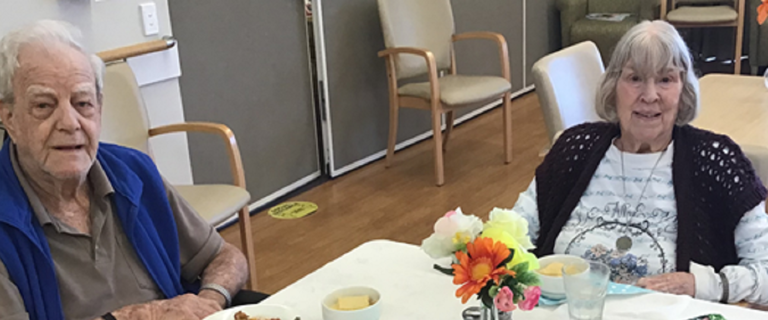 After 69 years of marriage, even a pandemic can't keep Bolton Clarke Cazna Gardens residents Jim and Mavis Laundon apart.
The pair live in residential aged care and still enjoy outings and live music concerts together but had to put a temporary hold on celebrations in January with COVID-19 restrictions in place.
When Mavis became unwell and needed to isolate in a separate room from Jim, the team at Cazna Gardens brought in a 21st century solution to keep the lovebirds together.
Lifestyle Coordinator Sally Winton said the solution was inspired by the video calls the team was already supporting for families who were unable to visit to see and talk with their loved ones.
"Social connection is important for everyone - it creates self-worth, a sense of wellbeing, purpose and belonging, especially for older people," she said.
"We see the moods of the residents who are involved in the Facetime program change, their spirits lift and they are reminded in their own way what the person they see and hear on the screen means to them."
Using two iPads, the team were able to connect Mavis and Jim so that they could see each other and communicate while they were apart.
Mavis said the technology is very clever, and she enjoyed seeing her husband Jim "on the television".
"Seeing Jim on the 'TV' is very clever, and he looks well. I'm glad he is good, and we can talk to each other," she said.
Jim, who is full of smiles after his calls, said he liked to ask Mavis how the weather is where she is.
"I like seeing Mavis through the screen to check how she is going and ask how the weather is where she lives." he said.