Love match on the tennis court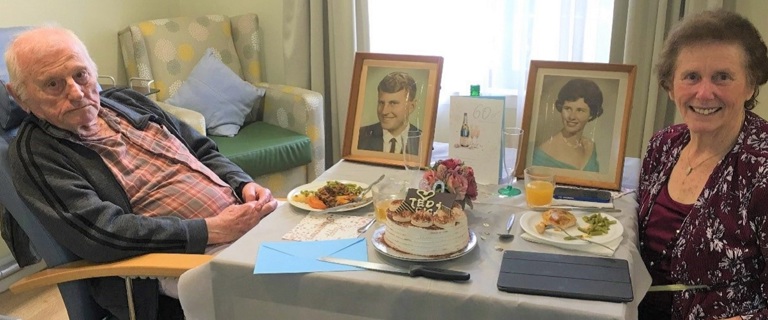 A love match on the tennis court has stood the test of time, with Bolton Clarke Cabrini resident Ted and his wife Erica celebrating their 60th wedding anniversary recently.
The couple met in Sydney while playing social tennis in the 1960's and with a 13-year age gap between them, Erica patiently waited for Ted to make the first move.
"We played tennis for quite a while and after many, many months I said to my Mum, 'I have met a very nice man on the tennis court - I wish he would ring me up and take me out'," she said.
"That same afternoon, he rang me up and organized to take me out. It was a love match on the tennis court!"
Looking back on their lives together, Erica says she couldn't have asked for a better husband. Ted worked as a solicitor for over 50 years until he was in his 80's while Erica looked after their three children and the house and taught in kindergarten.
The couple have made their lives in the Western suburbs, with Ted working at Pendle Hill and Wentworthville. Ted even attended high school at Parramatta High School, where his three children were later students. On a good day, he says he can still remember the words to the school song!
Ted and Erica also enjoyed holidays overseas to places like Singapore and Argentina, but Erica says the most important thing was the time they got to spend together.
"There are so many happy memories that we have, but the main thing in all of them is that we were together – that time was a treasure."
The photos of 19-year-old Erica and 32-year-old Ted, as they were when they met, adorned the table when they celebrated their 60th wedding anniversary. Amid COVID-19 lockdowns and restrictions, their family and the team at Cabrini worked hard to arrange a special luncheon for the two.
"All I wanted was a date with my husband, so being able to celebrate together was very special," Erica says.
"We had a tiramisu cake which Ted liked so much he had three pieces! But he's 92 now and every now and again a treat doesn't hurt. I can't say no, he's the love of my life."
"We've had our ups and downs, but we've had a wonderful life. He might not remember as much now, but I take each day as it comes and give him all the love I can give him."