Father of the fleet recalls his time in Montebello, and eating breakfast with Prince Philip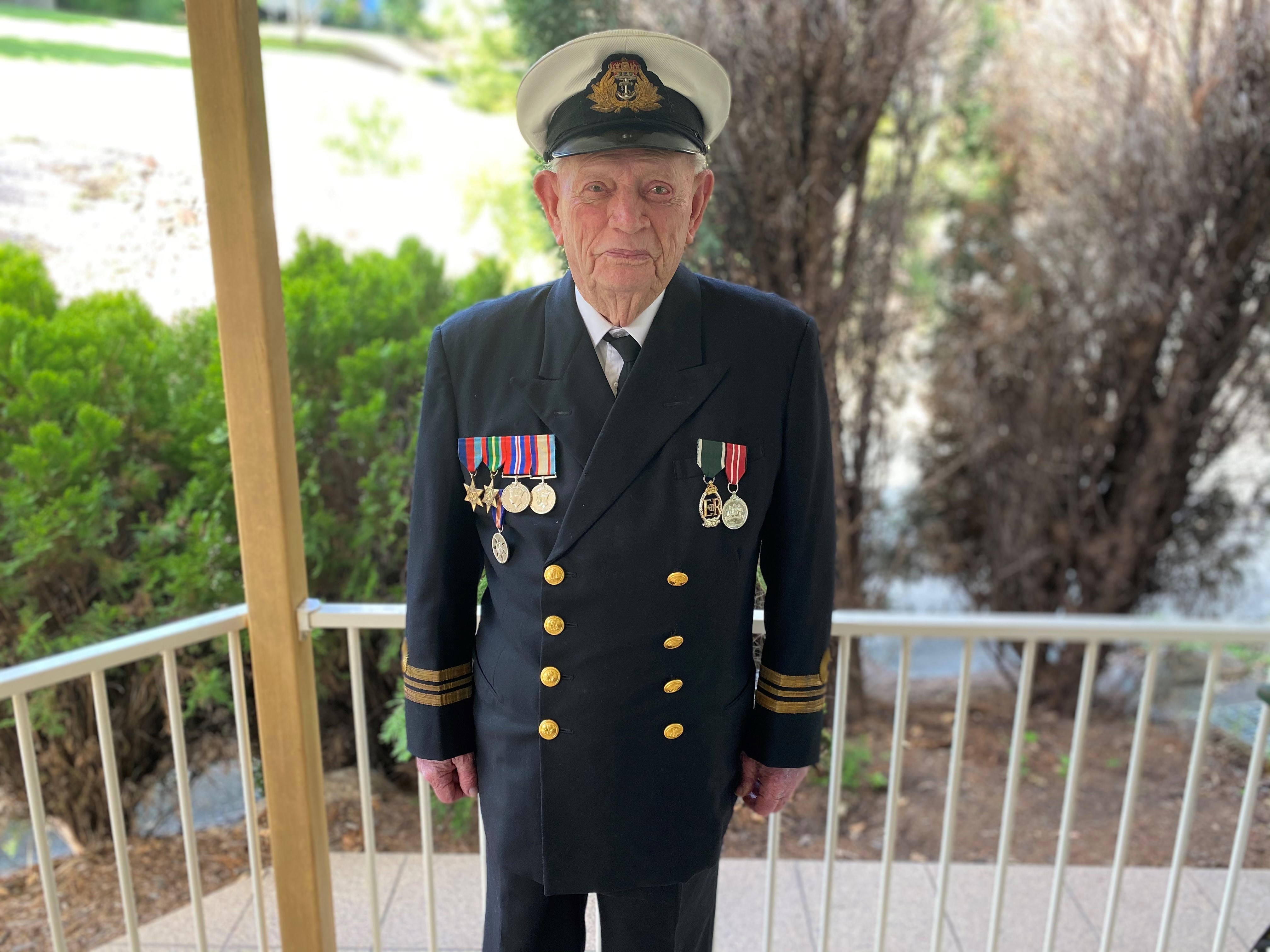 Seventy years after he was given 12 months to live after being exposed to nuclear fall-out from atomic tests, Lieutenant Commander Gordon James is proud he will be walking to lay an ANZAC wreath at his Bolton Clarke, Pinjarra Hills community this week.
At 93, Gordon is the oldest senior naval officer and the father of the fleet. For years, he led the navy contingent in ANZAC Day parades, in defiance of the diagnosis he received after his radiation injuries on board HMAS Arunta near the Montebello Islands in 1951.
Gordon was affected by radiation after, while awaiting his formal commissioning as a naval officer, he was put in charge of a crew scrubbing the ship clean.
In 1963 his doctors wanted to take his legs off at the knees as a result of his injuries, but he refused to let them.
"I said 'no way are you doing that!' So, they did a different operation instead, and I'm still here, fit as a fiddle!'"
This ANZAC Day Gordon will also be remembering former colleague Prince Phillip, who he first met in January 1952 at the Flinders Naval Depot in Melbourne.
"At the time, he was a Lieutenant and I was a Sub-Lieutenant. We kept running into each other in the officer's wardroom and were eating breakfast at the same time each morning.
"After a few days of this he approached me and asked if he could sit with me. I would have said yes regardless, but at the time I didn't know who he was.
"His title was never made a big fuss over. In the mess everyone's equal, but he was good to talk to - sharp, witty. We spent three weeks eating breakfast together."
It was only when Philip left abruptly, possibly to commence touring with the then Princess Elizabeth, that Gordon realised who he was.
"His bodyguards came and got him, and I put two-and-two together. A while later it was announced that King George had died."
Years later, Prince Philip spotted Gordon in an honour guard.
"He and Queen Elizabeth were visiting on board the Britannia, and when they arrived, I was in the honour guard to welcome them. Suddenly, Philip began calling out 'Gordon, Gordon!' and it took me a moment to realise he was talking to me!
"He invited me on board to have tea with him and Elizabeth. I couldn't believe he remembered me. He was as sharp as a tack."
Most of Gordon's service took place during the Cold War and remains a mystery to those around him, including his family.
For his contribution he received a special decoration from Queen Elizabeth in 1965, one of only a few in the world. It is a medallion he wears especially proudly.
In his later years Gordon would sign off on ships as they came in and out of port in his duties as senior supply officer. As he moved to retire, he began training younger officers.
There's not much Gordon hasn't achieved and as he would say he's "been there, done that."
These days, Gordon says he's too old to march in the parade but appreciates the service at Fairview which allows him to participate in traditions and recollections – and perhaps a glass of brandy.