'Tea, Cake and Family History' paints a timeless portrait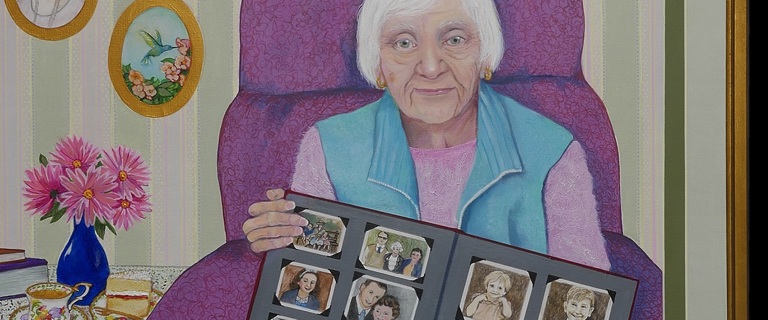 Seabrook resident Zita came face to face with her own image when she visited the Brisbane Portrait Prize exhibition at the Powerhouse, including daughter Donna's finalist portrait of Zita.
The painting, called "Tea, Cake and Family History" showcases some of Zita's favourite things, along with family photos which tell her life story.
Zita spent her life caring for others, both personally and professionally, as a registered nurse known for her cheerful and contented outlook.
"She's the most kind and compassionate person I know. I have endeavoured to tell her life's story with the photographs of beloved family and symbols of all she holds dear," Donna explained.
"Whenever we went to mum's house her walls were covered in family photos, the family photos were always talked about and family history was always talked about -that's why it was so important to include in the portrait.
"The other reason the family photo album was so revered was because my dad died fighting the Blue Mountain bushfires in 1968 – so mum was widowed at the age of 34 and she had three young children.
"After that every bushfire season, the family photos got packed into boxes and into the car so that should she have to evacuate the family photos would be safe."
Donna's love of art started from a young age - something she credits to her Mum's encouragement as well as some family genetics.
"Mum's always given me art books for my birthdays. When I was a teenager, I didn't have pop icons as posters on my wall – I had paintings by Van Gogh and Picasso and they were my heroes," she said.
"When I was a little girl people would ask me what I wanted to be when you grow up and I would always say I wanted to be a famous artist or a teacher -I have done the teacher role, I have done the artist and now I'm just working on the famous part!"
Zita laughed adding, "The only thing I can paint are stick figures, but I always loved my gardening."
"I think Donna got her artistic talents from relatives on both sides of the family, my husband's family and my mother's side. There was a great aunt, and she was a wonderful artist – her work was hanging in Parliament House in Tasmania in Hobart. She painted the governor and his wife."
Both Donna and Zita said it was a thrill to attend the exhibition on opening night and see the portrait on show.
"I am pleased for Donna more than anything that at last she got her name out there – it's been a long, long time from when she was a child painting," Zita said.
"I am her biggest fan and biggest critic, but I really enjoyed being at the event. I kept telling her 'You're famous!"
Voting for The Brisbane Portrait Prize People's Choice Award can be done here and closes on the 20th October.
Residential Aged Care
Genuine care that comes from the heart
We create welcoming and safe aged care communities that you can truly call home.
Each of our homes provides the peace-of-mind of having a Registered Nurse on duty 24/7, supported by passionate care teams.
Find a home