Sue shines at the LASA Queensland awards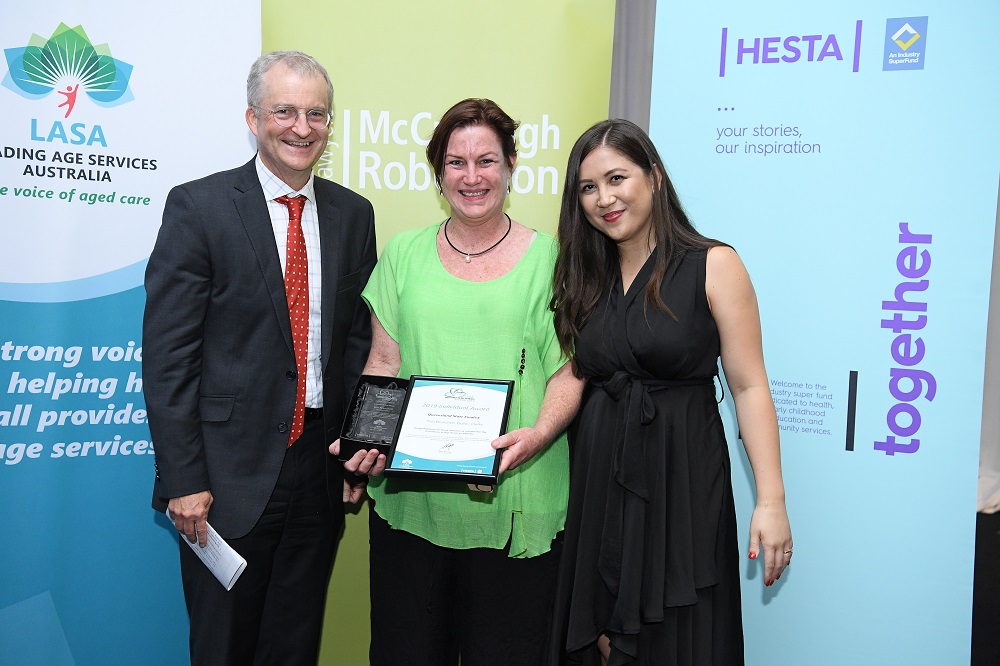 Sue Branchett from the Bolton Clarke Townsville At Home Support Services team has been recognised for her inspiring work in community nursing at the Queensland LASA Excellence in Age Services Awards.
The awards celebrate the dedication of individuals, teams and organisations in Queensland's aged services sector, Sue won the Individual Award at the at the 2019 Queensland Conference on the Gold Coast last week.
She was nominated for her ongoing commitment to her clients consistently going above and beyond to achieve the best outcomes including support for victims of domestic abuse and palliative care.
"This award isn't about me, it's about the people who trust me to care for them. They allow me into their homes when they are in a very vulnerable state and I have to respect that," she said.
"We are not only providing support to the client but we are assisting their family and loved ones as well. We are there to do a job but sometimes they just need a kind word or someone to listen to them.
"Community nurses play such an amazing and important role in society, they impact people's lives and they are the most passionate, dedicated and caring people."
Head of At Home Support Services Queensland, Helen Berry said Sue is an amazing mentor to her team providing them with guidance and support.
"The personal care workers model her behaviour and language when providing care to our clients. She embodies the values, morals and ideals you would expect of a community nurse," she said.
"Sue is so humble and this award is a great acknowledgement of her work and is truly well deserved. The organisation congratulates her for her hard work and dedication."
Sue will now progress as finalists to the national awards presented at the LASA National Congress in Adelaide from 27-29 October.