Spring carnival revives memories for ex-jockey Brian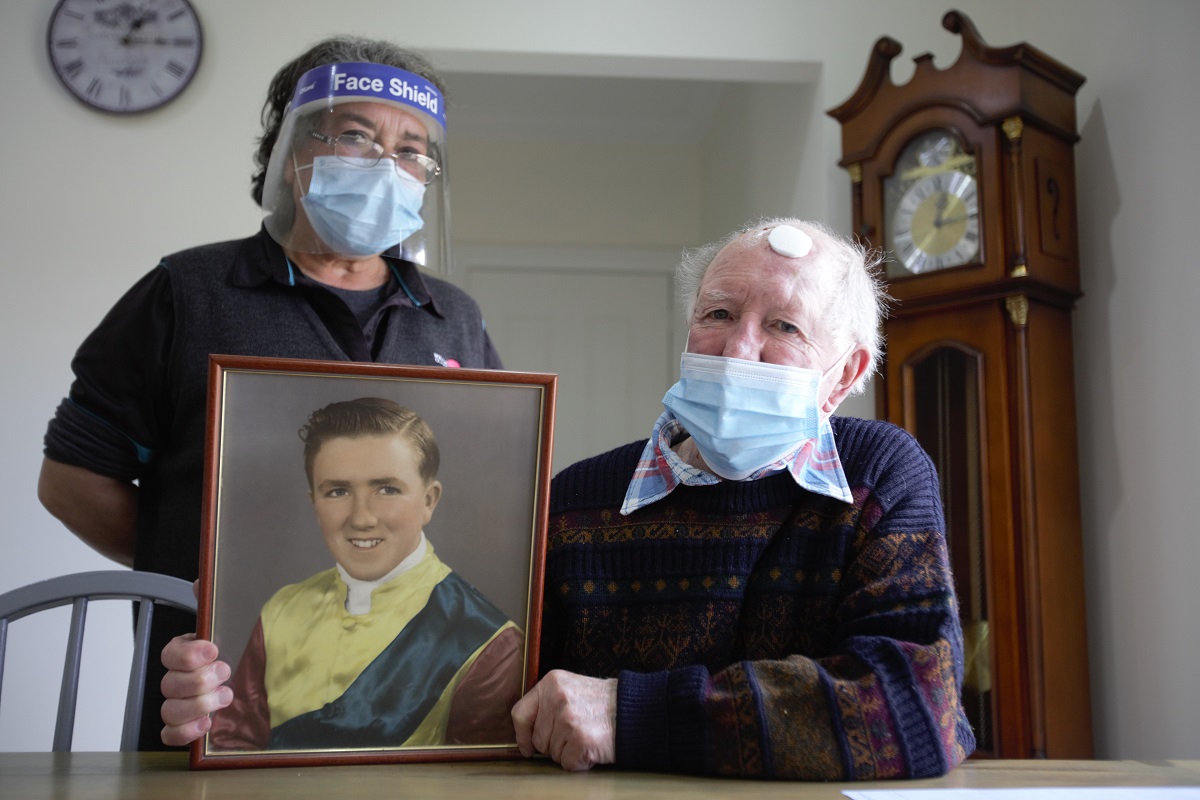 When Bolton Clarke at home support client Brian Gilders says his most successful professional year was on Beer Street, he isn't referring to a stint off the wagon, but in the saddle.
The career jockey won the 1970 Caulfield Cup and Queen Elizabeth Stakes on the four-year old stallion, even meeting Her Majesty after the latter.
Footage of his Caulfield triumph isn't available, but one racing aficionado writes that Brian "sooled across from an outside gate and put the brakes on, causing mayhem from behind. He then took a sit before sprinting clear on the turn."
These days it's hard to imagine the modest, softly-spoken 83 year-old ever causing mayhem, though he has enjoyed sharing his memories with District Nurse Maria Pinto, who has visited over recent months to support recovery from a recent skin cancer operation.
Brian rode from 1952-77 and trained for many years after. He no longer attends race meets but likes living close enough to Moonee Valley Racetrack you can almost hear the roar down the straight.
Saturdays are spent glued to racing telecasts, observing nags with an expert eye, but never on the punt. (Interestingly, in his youth, renowned racing writer Patrick Bartley put decent money on one of Brian's nags after it saluted in a dream. Sure enough it won, and at long odds).
A devoted-but-frustrated Essendon supporter, he has vivid memories of legendary full forward John Coleman. "He was incredible," says Brian, 83. "Crowds would move from one end of the ground to the other each quarter to be closer to him."
If only the Bombers has someone of Coleman's ilk today, he says, and for the game to be less frenetic "handball, handball, handball and more man on man".
Brian wishes the Covid virus would go away but says with support from Maria his and Merle's mostly home-bound life hasn't changed dramatically since it appeared. "I've got some sugar level problems, so I don't get out much. It's more so we can see our daughters and grandkids," he says.
He wishes too, that he could travel back in time for one more ride on his old steed. "My first meeting with Beer Street at Flemington was a bit tetchy. He started bucking for two or three minutes, quite a temper. He was an average horse at first, but he came good."
That he did, Brian, with ample help from his gentleman jockey.