Share a laugh during World Continence Week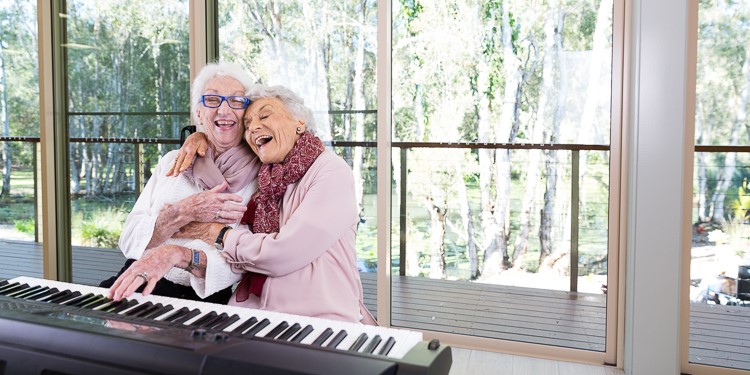 Bolton Clarke clients and residents will be encouraged to enjoy a good laugh during World Continence Week from 17-23 June 2019.
Senior Clinical Nurse Adviser (continence) Kate McLeod said team members were particularly well placed to help clients and residents take early preventative action, including pelvic floor exercises, to avoid or address incontinence.
Teams will help roll out the Continence Foundation of Australia's "Laugh without Leaking" message throughout the week. Kate says incontinence is not an inevitable part of ageing.
For the majority of the more than 6 million Australians affected by bowel or bladder incontinence, the problem can be helped or cured with proper support.
More than 80 per cent of people who report incontinence are women, and older people make up the largest group experiencing continence issues.
Causes can include lifestyle issues such as poor fluid and fibre intake, obesity, chronic illness such as dementia, stroke or Parkinson's disease, or common conditions like constipation or urinary tract infection.
"Continence issues are often a barrier to people achieving their personal aims and can lead to social isolation because of uncertainty around toilet locations," she says.
"Identifying and escalating continence issues early means prompt management and treatment, which leads to optimal health and wellness for the client.
"Home care workers are particularly well placed to support clients with these issues and recognise small changes in the person or their environment."
Bolton Clarke also presents regular community information sessions on bladder health under its Be Healthy and Active program, incorporating simple ways to improve bladder control.
Upcoming sessions will be held at Adamstown Men's Probus Club in Newcastle, NSW and in Melbourne at Whittlesea U3A, Haven Home Safe Carrum Downs and Springvale Indo-Chinese Mutual Assistance Association, Springvale.
To register or find out more go to https://www.boltonclarke.com.au/additional-services/health-wellbeing/healthy-bladder/