Residents make their mark on Future Fernhill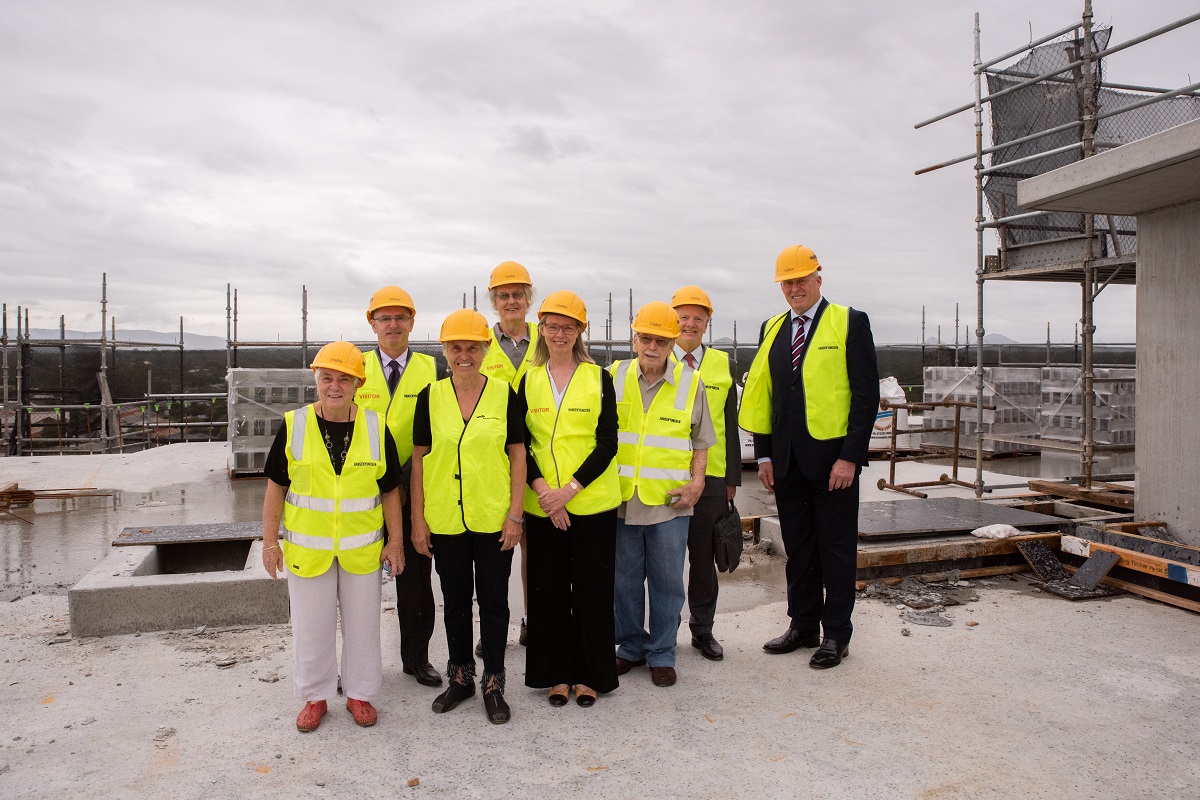 Retirement village residents joined Bolton Clarke Chairman Pat McIntosh for a sneak preview of the view from the roof at the new Fernhill residential aged care building at a topping out ceremony marking laying of the final slab this week.
Residents Marg Murray (nee Wachter) and Graeme Munro were among those who signed a commemorative slab to mark the milestone. The slab will be presented with a plaque at the grand opening of the new community later this year.
The new multi-storey 162-bed Fernhill residential aged care community – stage one of a 10-year redevelopment co-designed with residents - will include modern, accessible rooms in a secure building with the latest enabling technology. It will feature a dementia care environment designed in line with internationally recognised dementia design principles promoting choice and freedom with quiet spaces, way-finding support and an indoor-outdoor environment.
This week's event marked the final stage in structural development works on the new state-of-the-art facility.
The celebration was attended by Fernhill residents, Bolton Clarke Board and team members, local Councillors, Caboolture Hospital and community representatives and representatives of builders Hansen Yuncken.
Retirement Village resident Graeme Munro said the views were particularly impressive and that residents were looking forward to the new community.
Bolton Clarke Chairman Pat McIntosh said the day marked a significant milestone in Bolton Clarke's history at one of the organisation's most historic sites.
"This year marks 70 years since the first war veterans arrived at Fernhill on 4 May 1950. Over those 70 years Fernhill has grown to meet the needs of the Caboolture community and this next phase in that journey continues to be driven by residents and locals," he said.
"Our continued focus on supporting more people in new ways has allowed us to work with some excellent partners. We're pleased to have had QUT involved in our Future Fernhill project from the beginning, working with our residents to build a community designed around things they identified were important to them."
"It's also great news that this building has been chosen as the site for one of two Queensland-based Living Labs where QUT will test early commercial technologies to enhance energy efficiency and renewable energy solutions and create a smart living environment for resident comfort."
The new community will be fully landscaped with shady outdoor seating and parkland, a retail precinct, underground parking and open green spaces to encourage active lifestyles and community engagement.
Stage one major works are on track for completion in August this year.