Report helps retirees understand downsizing options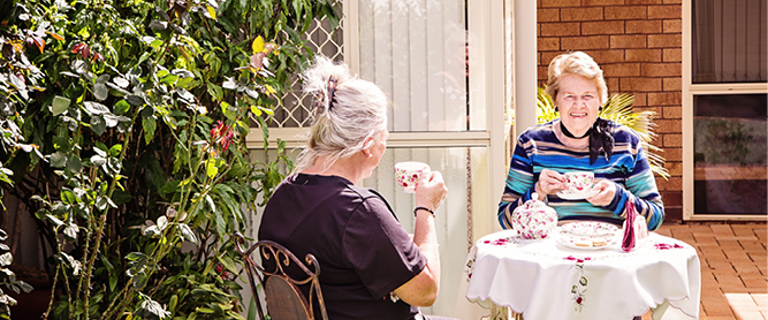 Bolton Clarke has partnered with Aged Care Gurus to help prospective retirement living residents get clarity around the costs of retirement.
Retirees thinking about a move to a Bolton Clarke Village now have access to a free affordability report, created through software developed by Aged Care Gurus.
"Affordability means something different for everyone," Bolton Clarke EGM Retirement Living Kim Teudt said, "and many people who are thinking about downsizing find it difficult to get to the bottom of what it means for them financially.
"We're excited to partner with Aged Care Gurus to help people navigate what downsizing to a Bolton Clarke Retirement Village might mean for them."
Aged Care Gurus Principal Rachel Lane said two factors that often held people back when downsizing were deciding what to do with their belongings and confusion over finances.
"Unfortunately, many people who are thinking about downsizing into a retirement community simply can't work out what it all means for them, financially speaking," she said.
"They know they want the lifestyle, but they don't know if they can afford it. They develop their own rules of thumb, such as, 'If I pay less for my new house than I get for selling this house, it will be ok,' without understanding the impact the change could have on their pension. Or they look at the exit fees in percentage terms to compare villages, thinking, 'This one is 30%, but that one is 25%, so it's cheaper,' without realising that calculating exit costs is much more complicated.
"Another mistake people make is to think the cost of living in a retirement community is outrageously high, because – and you would be amazed how many people think this way – they think staying in their current home is free!
"A Village Guru Essentials Report enables people to see the financial outcomes for different properties and payment options within a village, compare with another village or with staying at home."
The report will help people understand their individual circumstances including:
Cost to move into their preferred Bolton Clarke retirement village
Ongoing costs of village living
Impact on Age Pension and Rent Assistance
Cost of a Home Care Package if required
Village exit costs and timeframes for receipt of exit funds
"We look forward to giving people greater confidence to make the move into one of our welcoming communities that are designed to support residents to live life to the fullest – including through a range of accessible contract options to suit different circumstances and preferences," Kim Teudt said.
To find out more visit Discover affordable retirement living | Bolton Clarke