New artwork to link site with vibrant local heritage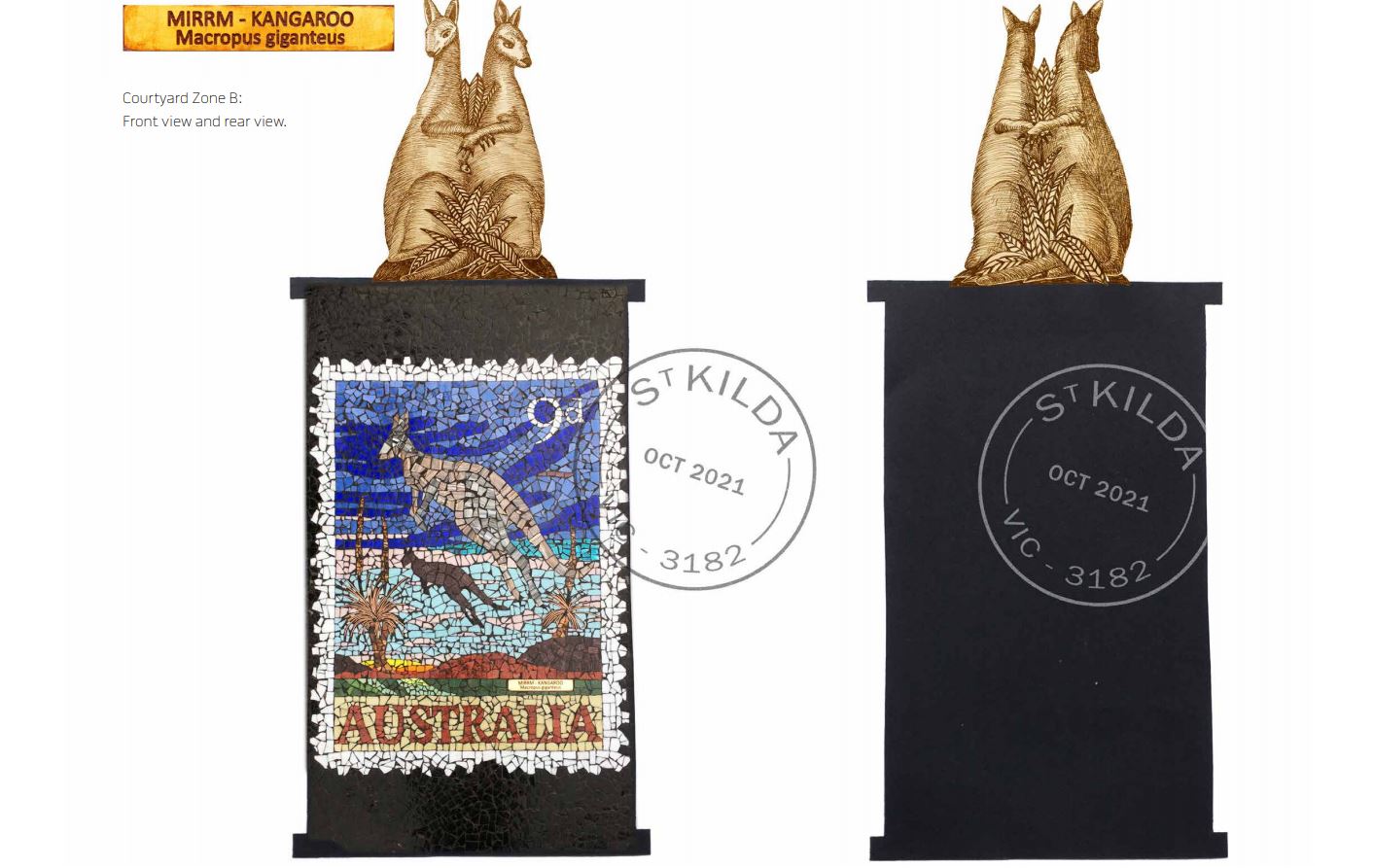 9 December 2020
A new public artwork reflecting the indigenous and European history of the Port Phillip region will be a feature of the Europa on Alma vertical retirement village development now under construction at Alma Rd, St Kilda.
Artist Simon Normand has been commissioned to create the piece for health care and independent living provider Bolton Clarke (formerly Royal District Nursing Service).
It will include four freestanding two-metre high sculptures incorporating cast Venetian glass mosaic panels on steel plinths, stamped with the St Kilda postmark. The sculptures will reference iconic images from pre-decimal early 20th Century postage stamps and the indigenous totems of the local Wurundjeri and Boonwurrung peoples. Bronze casts of Bulln-Bulln the Lyrebird, Mirrm the Eastern Grey Kangaroo, Barraimal the Emu and Cocopara the Kookaburra will sit atop each plinth.
Mr Normand said the sculptures were intended to reflect both the rich indigenous history of the St Kilda Port Phillip region and the colonial history of Melbourne, including a nod to early Royal District Nursing Service leader Lady Janet Clarke.
"These works are site-specific in nature and are intended to celebrate contemporary Australia while referencing both European and indigenous currency" he said.
"Australia's kangaroo stamp was released in 1913, the same year that the Lady Janet Clarke memorial in Kings Domain, just off St Kilda Rd, was completed. In this way Lady Janet Clarke's contribution to the rise of Melbourne is acknowledged and linked to the four exterior bronze, steel and mosaic sculptures designed for Europa on Alma."
Bolton Clarke General Manager Property Development James Mantis said he was delighted to announce Mr Normand as the winning artist after a competitive selection process.
"We hope this artwork, which connects our organisation's origins with the rich and diverse heritage of the St Kilda area, will become an iconic landmark in the St Kilda landscape," he said. "We are delighted to be able to contribute to the area's longstanding record as a leader in making art accessible to the whole community."
Europa on Alma, built on the site where RDNS had its support centre for more than 20 years, will incorporate 81 new one, two and three-bedroom apartments built around a landscaped, light-filled internal courtyard.
Designed to support independence, wellbeing and connection the community will feature a dedicated cinema with bar and private dining area, a sky room with expansive views and a library, gym and creative arts studio. Home support and nursing services will be available through an on-site concierge.
The project is expected to be completed and ready for residents in Spring 2021. Enquiries on 1300 416 262.