Music a delight for Winders' self-taught pianist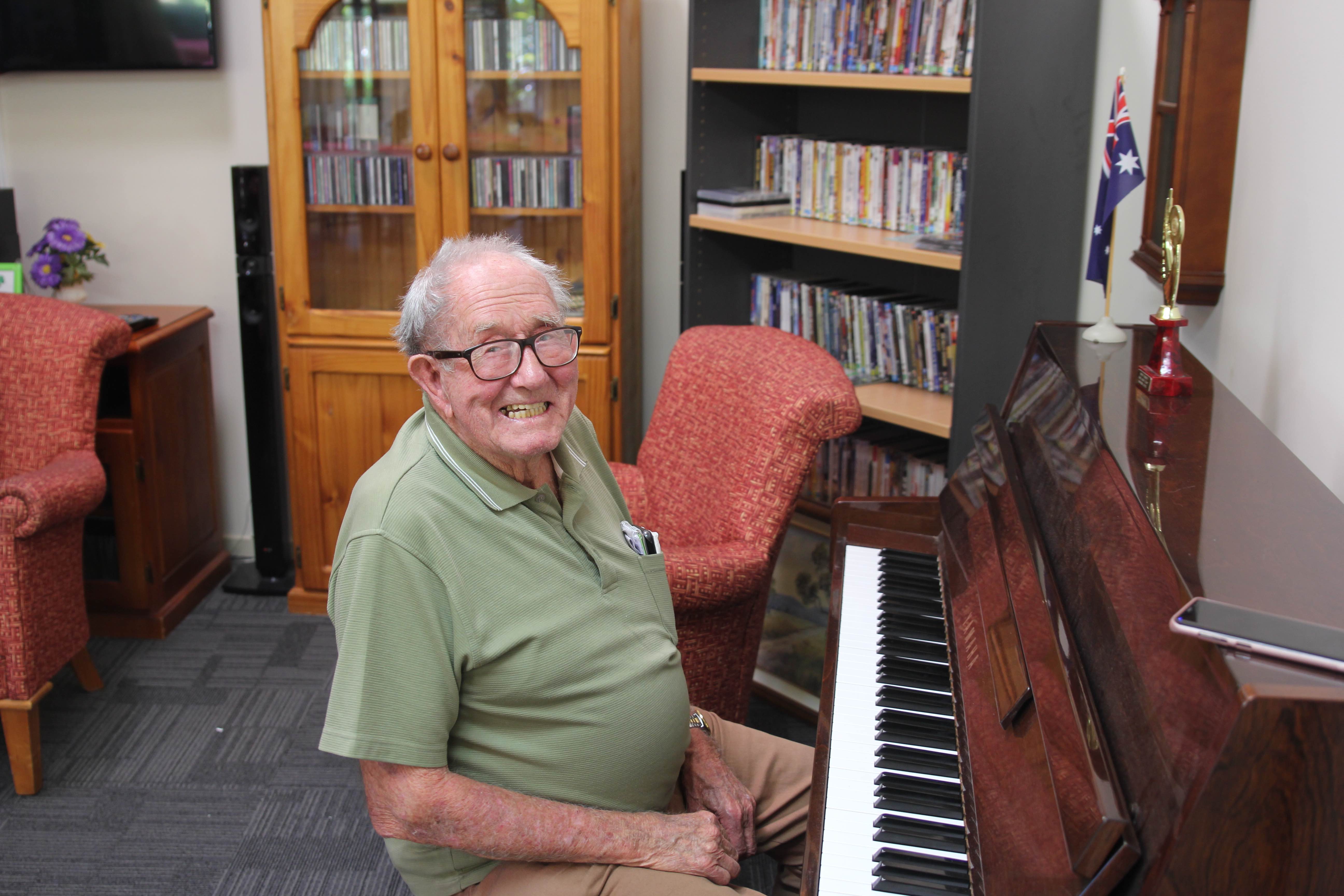 Bolton Clarke Winders residential aged care resident James cannot read a note of music.
That hasn't stopped him teaching himself to play piano in his 90s with such success that he's now bringing joy to his whole community.
James grew up in the NSW Murray River town of Moulamein, where he worked on his uncle's sawmill and lost his thumb in a workplace accident.
"We had good fun growing up in the bush, 25 miles out of town with no electricity or running water. We were all rough and tough – I'm still a bit like that today," he says.
He also enjoyed shooting, fishing and horseback riding while living on the land and raising a family that includes two children and four step-children.
James had two months of piano tuition as a teenager, but lost his access to the piano.
Almost 80 years later, moving to Winders gave him a second chance to tickle the ivories and he grabbed the opportunity with relish.
Now 93, he plays by ear and says he still cannot read a note of music.
Since I came here I started mucking around a bit but it all came back to me," he explains.
"It's lovely, I love doing it. My sisters were very good singers, my brother had an accordion and we used to have sing songs as a family.
"I noticed when I sat down to play some of the residents would congregate on the couches and listen to me – there was one lady down the hall who wouldn't leave her room but she now comes out to hear me."
These days, James loves to learn new pieces and entertain. Diversional Therapist Sue Todd says playing the piano has allowed him to build his confidence and self-esteem after the loss of his wife.
"My wife was originally at Bolton Clarke Darlington, but I became ill and was no longer able to be her full-time carer. They were able to move us into Winders in side by side rooms.," he says.
"I love it here, we are well looked after. I give them some cheek but they love me for it."
Sue says he has made excellent progress as a pianist and it has been a delight to see him take up a hobby he loves.
"We all love hearing him play, it adds atmosphere to the dining room. James will always entertain us and make us smile, you can tell he really loves doing this," she says.