Fishing to flying - Doreen's extraordinary life story
19 October 2020
She may have been Queen of Brunswick Heads and the youngest licensed female pilot in NSW, but the 3.6kg flathead she caught when she was nine years old is still one of Doreen McDonald's enduring memories.
Doreen, who now lives at Bolton Clarke's Galleon Gardens residential aged care community at Currumbin Waters, was one of the first residents to tell her story and turn it into a book as part of the organisation's Life Stories project.
One of four children, she grew up on a farm at Brunswick and remembers a strong sense of community including local dances and regular singalongs.
"My Dad, Walter, had a dairy farm and when we moved into town, I was still responsible for collecting the milk before I went to school," she says.
"I used to have to walk the mile and a half up to the farm after school to get the milk from the dairy. The road where I walked was also the drover's way and I was terrified of those cows, so the drovers would bring a horse to me and take me through the cattle to the other side."
Fishing and crabbing were a regular pastime using a fishing line tied to a bottle, as rods were too expensive.
"It was a wide river and there was a channel in the middle," Doreen remembers.
"I caught this flatty and I'd only hooked it in the fin, so I'm running and jumping over moored boats and trying to pull in this fish and the fishermen were pulling in their lines so I could have the room to run.
"I carried that fish sitting over my shoulder all the way home so everybody could see what I caught, and that was evening tea for our family."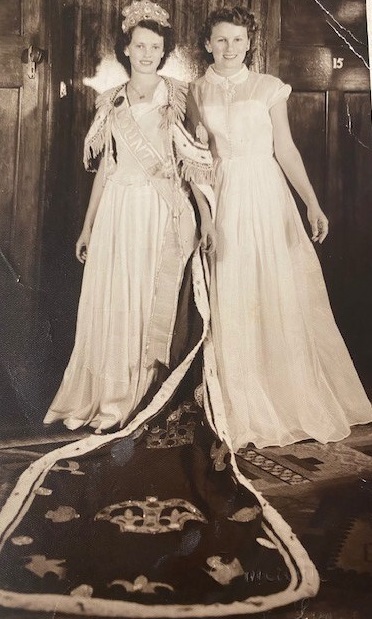 Later, Doreen worked at her grandmother's boarding house at Grafton and helped raise money for Mullumbimby hospital as Miss Brunswick Heads.
She learned building skills – particularly working with timber – building houses with her father and began flying after becoming engaged to fighter pilot Max, taking to the air in mostly Cessnas.
Doreen married Max weeks before she turned 18 but was widowed on the same day after an accident involving a runaway truck. A few months later she set off with her cattle dog Bluey and headed north, befriending long haul truckers who kept her safe along the way and earning money by cleaning at hotels and cooking in cafes.
"My parents knew where I was most of the time from the truckers stopping at our home – we lived beside the highway and they would catch up with our parents."
In 1959 Doreen moved to the Gold Coast and started work at Grays Bakery in Southport, later working at a lingerie shop and the Pier Theatre in Southport before moving into catering and cake decorating. Other creative outlets were woodwork, operating complex machinery including a scroll saw, and beading, quilting and painting.
She found love again with Gold Coast City Alderman John Laws and they spent 33 years together prior to his death in 1998.
Doreen moved to Galleon Gardens in 2017 where she has continued to enjoy an active social life and hobbies including cooking and craft.