Celebrating 70 years of love at Fairview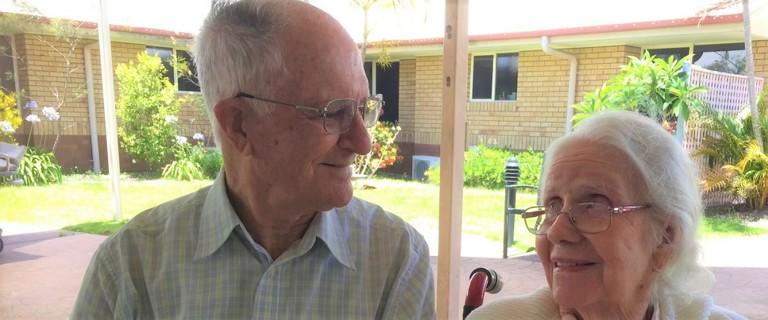 After spending a lifetime together, Bolton Clarke Fairview residents, Doug and Mae are celebrating their 70th wedding anniversary.
The couple married in their hometown of Rockhampton on 20th December 1952 after crossing paths several times during their childhood.
"We were both born in Rockhampton two years apart and Mae's parents lived in a flat opposite the house where we lived," Doug said.
"As we grew up, we both progressed through the Girl Guides and Scout movements.
"To improve social contact between the groups, there were monthly get-togethers like dances and games and that's how we met again," he said.
After marrying, the couple spent their honeymoon in Melbourne before moving to Brisbane for Doug's work.
"After moving to Kangaroo Point, we decided to buy a home in Sherwood where we had corn fields and cattle," Mae said.
"But for the next six years we were subject to flooding from Oxley Creek and the release of Wivenhoe Dam.
"So, we moved and lived happily in the house we built in Geebung for 61 years!" she said.
For the couple, being together for 70 years is something they say has been fantastic and together they have four children, seven grandchildren and 10 great grandchildren - soon to be 12.
"We had never really thought about how long we had been together until we reached our 60th anniversary and received a beautiful photograph of the Queen with her congratulations," Doug said.
As for their secret to a long and happy marriage, it's all about "picking the right partner to start with".
Residential Aged Care
Genuine care that comes from the heart
We create welcoming and safe aged care communities that you can truly call home.
Each of our homes provides the peace-of-mind of having a Registered Nurse on duty 24/7, supported by passionate care teams.
Find a home