Butterfly effect brings joy at Willandra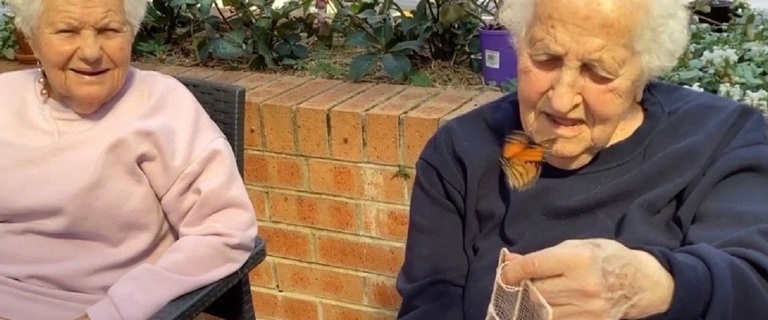 Spring has well and truly sprung at Willandra Residential Aged Care in Marrickville, with residents and team giving the green thumbs up to new sensory garden and butterfly hatching programs.
The colourful creatures have become honorary residents of the Willandra home, still coming back to visit their adoring cultivators.
Lifestyle Officer Kalleena Da Silva said she came across the idea of butterfly hatching one day and decided to give it a try as a way for residents to learn something new.
"Everyone was so excited for their arrival - when they came it was like a circus show, nobody could keep their eyes off of them," she said.
"It was amazing, so many residents and staff said they had never seen a cocoon, let alone a butterfly hatch. We had information sheets displayed that showed the life cycle of a butterfly and it became the talk of the home – residents were showing their families when they visited, and staff were checking on them throughout the day."
A releasing party celebrated the first butterfly hatchings at the start of spring, but although they have their wings they still come back and visit.
"It brings a lot of joy when they choose to come and surprise us! Having butterflies hatching brings back so many memories for our residents, causing many of them to reminisce on their younger years, no matter where they grew up," Kalleena said.
Resident Rosina was particularly excited to watch the events unfold.
"In my whole 82 years, I have never seen a butterfly hatch!" she said.
Currently participating in the annual 'Best in Grow' competition, where Bolton Clarke Group residents dig out their creativity and let it loose in the garden, Kalleena says Willandra residents have never had more incentive to enjoy the outdoors.
"Residents mapped out our plan for three garden beds - one that is completely edible, one with all colourful flowers for spring and one with bushes and winter roses so that there is something blooming all year," she said.
Bunnings has sponsored the rejuvenation of the gardens, and now with the warmer weather approaching, residents are enjoying tending to their gardens and – of course – watching out for butterfly friends.
Residential Aged Care
Genuine care that comes from the heart
We create welcoming and safe aged care communities that you can truly call home.
Each of our homes provides the peace-of-mind of having a Registered Nurse on duty 24/7, supported by passionate care teams.
Find a home