At the heart of us is you
We invite you to be part of a welcoming and diverse team, and make a big difference to the lives of older Australians.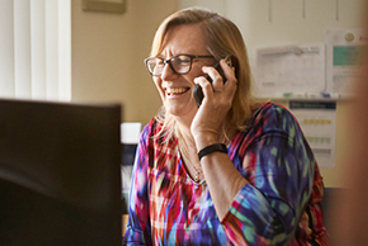 Support Services
Provide specialised support in your field of choice, from groundskeeping and catering to administration and IT.
Not-for-profit salary benefits

Plenty of support from your team

Training and development opportunities
Explore our opportunities

If you enjoy helping people and making people happy, then this is definitely the environment for you.
Wayne
Maintenance Team Leader
If you enjoy helping people and making people happy, then this is definitely the environment for you.
Wayne
Maintenance Team Leader
We're a diverse team with one purpose – to enable, celebrate and support older Australians to live and age positively.
Our workforce is made up of caring individuals from over 140 different countries. This is so important for an organisation whose clients and residents are equally diverse, with 133 languages spoken by the people we support. With diversity comes the gift of unique skills, values and life experiences and you'll enjoy working in a team that embraces and celebrates differences, with the universal language of kindness at its heart.
Here's what people love about working at Bolton Clarke
Discover a welcoming, safe and fulfilling work environment with plenty of opportunities.
Our Purpose & Values
Our values help people to live a live of fulfilment. Click on a value below to learn more.
We listen to everyone and believe this value to be the foundation of providing great care and service. To listen means to hear both what is being said and what is not being said.
We have big hearts and lead with kindness. We go above and beyond in what we do, and we are compassionate to all.
We always do our best to understand every situation, while respecting the privacy and safety of those involved.
Safety isn't just a priority; it is a way of life. We are committed to, and value, consistent safe practices in all that we do.
We are one team, diverse and united. We understand the roles that each of us play and work together to deliver consistent service and care, with dignity and respect.
Supporting you every day
A supportive environment with exceptional safety standards
You'll feel fully supported from day one with plenty of guidance and information on hand to help you succeed in your role.
Our At Home Support and Residential Aged Care frontline teams are supported by Senior Clinical Nurse Advisors who are available to provide specialist training and help.
Through the delivery of the Bolton Clarke Clinical Governance, Client Safety and Wellbeing Framework you'll be protected by our commitment to the highest standards of safety management.
Training and professional development
You'll receive a thorough induction supported by three 'buddy shifts' when you begin at Bolton Clarke.
As a member of the Bolton Clarke team, you have access to ongoing training, professional development, and opportunities for career progression.
Our care approach
We work together with our customers and their families to provide holistic, high-quality care that evolves as needs change. This is underpinned by the research, applied knowledge and health leadership of our own Research Institute.
Our Research Institute enables us to lead the way in positive ageing, translating research into real outcomes for best practice, not just for Bolton Clarke communities but for the entire sector.
Employee benefits
As a member of the Bolton Clarke team, you'll enjoy access to a range of benefits designed to support your needs and those of your family, including:
Work/life balance and flexible work options
Not-for-profit salary packaging benefits that allow you to reduce your taxable income by up to $18,550 and increase your take-home pay.
Private health insurance discounts
Employee assistance and wellbeing at work programs
And many more.
Supportive team environment
Training and professional development
Our own Research Institute
Range of employee benefits
Our recruitment process
To help you make a great impression and feel comfortable with what to expect, we've outlined the typical steps in our recruitment process. Sometimes, these can differ depending on the role.
Step 1 - Applying
Found a role that suits your skills and aspirations? Apply now! Or, if your ideal role isn't available, you can submit an Expression of Interest and we'll add you to our candidate pool.
Step 2 - Screening
One of our Bolton Clarke Careers team members may organise a phone call to get to know you a little more before the interview stage.

This is an opportunity to share why you're interested in the role and ask what it's like to be part of our team.

This step may include an invitation to complete a quick values-based assessment to get a feel for our culture and values.
Step 3 - Interview
We'll contact you to arrange an interview. Your interview could take place in person or via video call, depending on any relevant circumstances.
Step 4 - Pre-employment checks
After your interview, we will verify all necessary documentation relevant to your role. This may include reference review, working rights and police checks.
Step 5 - Join the team
If you are successful, you'll be offered the role. Otherwise, we'd love you to continue to be part of our candidate pool, ready for the next opportunity.
Get started
Begin your journey with Bolton Clarke today by viewing available roles.
EXPLORE OPPORTUNITIES
Find the role that's right for you
We have a range of roles available across all fields.