Leap year lovebirds turn rivalry to romance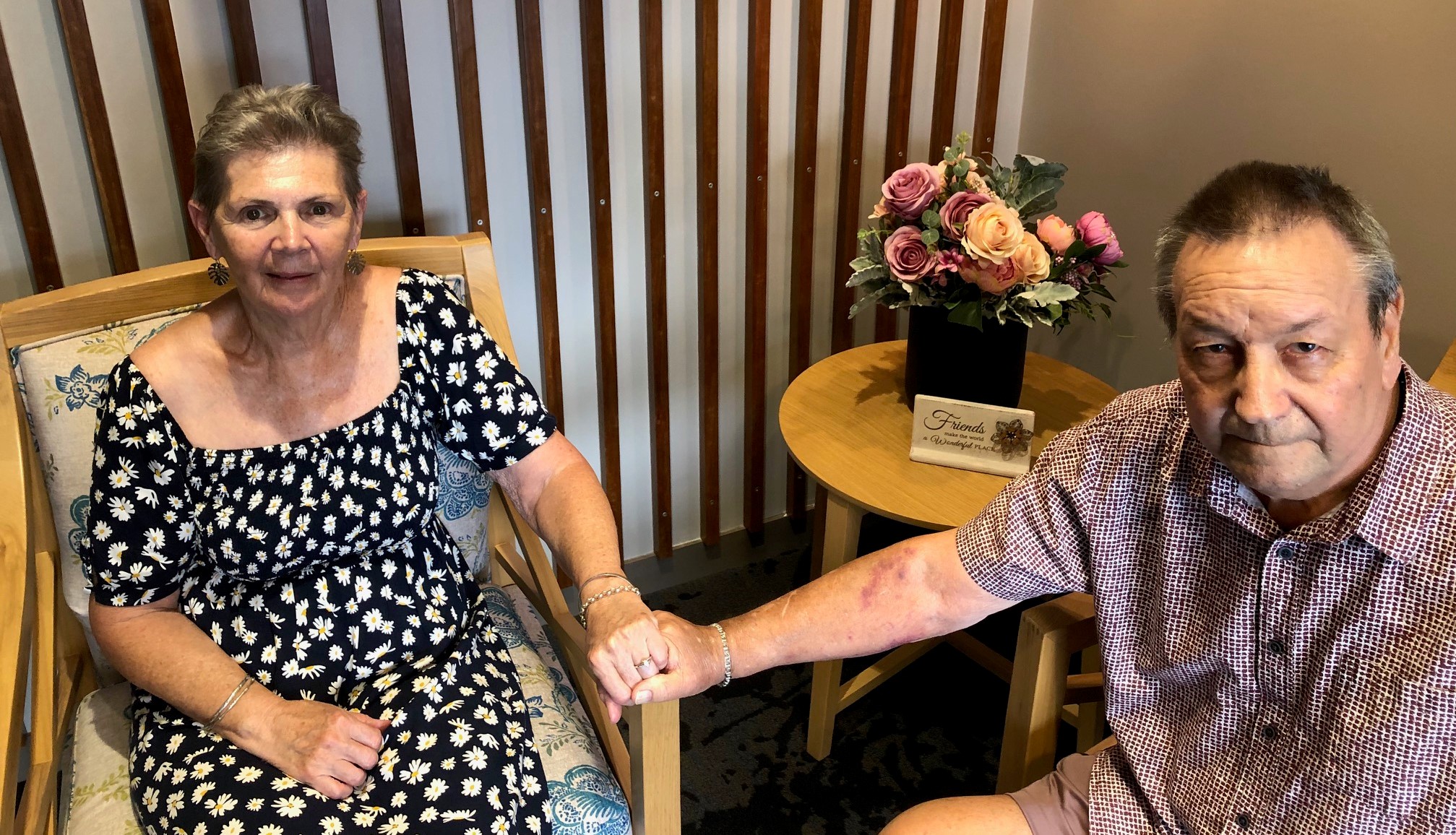 When David Kearton, 70 met Linda Walmsley, 69 at Bolton Clarke's Fairways retirement village in Bundaberg, the last thing either of them expected was to fall in love.
But fall they did, and on Valentine's Day Linda made their love official with a leap year proposal.
"It felt like the right time, on a day for love," said Linda, "and as it's a leap year, I thought 'well here goes nothing!"
"He was a bit surprised, so it took him a moment to answer me, but then he said 'yes, that he'd be thrilled' to marry me."
Linda proposed while they were exchanging Valentine's gifts.
"I got a bit teary," said David.
"She didn't get down on bended knee though which was a bit disappointing," he adds cheekily. "She wouldn't let me go to Bunnings for a curtain ring either!"
Their engagement rings had been purchased together during a shopping trip at Christmas, originally worn as promise rings - his in platinum, and hers in silver and rose gold.
"After Linda proposed, we swapped the rings from our right hands to our left," David said.
Both English, Linda from Lancaster and David from Yorkshire, the pair have a friendly rivalry that stretches back to the 'Wars of the Roses.'
"In England, we were separated by moors but just a stone's throw away from each other, yet we had to come halfway around the world to meet!" Linda said.
They both agree it was meant to be, as neither had expected to find love a second time after their first partners passed away.
"At my age, I had thought 'that's it!'" Linda said. "It could be lonely sometimes. It has changed both our lives tremendously."
"When I moved into the Village, falling in love was the last thing I expected. Village life and the community here has brought us together. We're eternally grateful."
"Life could be a bit cloudy, but Linda is my silver lining," David said. "I am truly blessed."
They first met during 'happy hour' at one of the Fairways social events.
"Our eyes met across the room," said David. "We got to talking and she asked me if I'd like to go for coffee."
David embodies the epitome of excited English schoolboy around his new fiancé.
"He's cheeky!" said Linda, "and he makes me laugh, there's never a dull moment!"
After the whirlwind and excitement of their engagement, the couple are looking forward to planning their future together.
"We've been overwhelmed with well wishes, gifts and cards," said Linda. "Everyone has been so warm and friendly – we've made quite a few friends here, and we popped some champagne at one of the Village events the other day to celebrate."
"Our families are both so happy for us," adds David. "They're pleased to officially welcome each of us into either side of the family."
The couple plan is planning many adventures together including a honeymoon, celebrating Linda's 70th birthday, and a wedding that honours each other's history and their newly blended family.
Bolton Clarke Fairways Retirement Village Manager Rob Kerby said the Fairways community couldn't be happier for Linda and David.
"We're all looking forward to helping them celebrate in style and sharing the next chapter of their journey with them."
"Rob has been very supportive. He's a great Village Manager," said Linda. "We love living here."